Aloha
MAG
By the time little Nadia movednext door to me in Kailua, Hawaii,
she had traveled morethan many people do in a lifetime.
Masks from Tanzania andBali decorated the walls of her house.
Japanese fans andThai dolls lay across her dresser.
When I moved to NewEngland, Nadia sent me letters from
India, Australia,China, Switzerland ...
Christmas card photos of her familysnorkeling off
Ofu: "Fourteen degrees South ..."
Her annual school photo accompanied by the usualmessage,
"Yuck, I hate my school picture!"
Icherished it anyway.
Years of mail stretched the big brownenvelope under my bed.

"I'll be visiting SanFrancisco in June and can come visit you if you'll be
home. Please write back ASAP so we can try to planthis" I had written.
Would she ever get my letter,she who is seldom at her home in Berkeley?
But the phonerang - what a surprise to hear my beloved friend's voice!
Arrangements were finalized; we anxiously awaited ourreunion.

I'm not sure what to expect when I meet Nadiaagain on this June day.
People change.
We are quiet atfirst, polite, like people meeting for the first time;
itis the first time in many years.
With so many memories,where do we start?
Soon we are giggling about old times;playing on the beach together,
two little girls, sandy andburned from the Hawaiian sun.

"Remember when wesang and danced and put on shows for our parents?"
"Remember when we draped sheets over the furnitureand played house?"
Yes, I remember.
"Hey,Nadia, remember when you threw me a surprise going-awayparty?"
"Yup," she replies. "For yearsafter you left, I wished everyday
for you to comeback."

Her mother tells me, "You know, thatwas Nadia's first case of depression.
She was so sad afteryou left that her kindergarten teacher asked us
what waswrong."
I look at Nadia, trying to imagine herfive-year-old face filled with loss.
Nine years have passedsince our sorrowful good-bye.
Nine years of growing up andgrowing apart.
And now, here together, reunited for theday, trying in vain to catch up on
lost childhoodmoments.
Her parents look at us sentimentally.
Theirfaces declare, "Oh, you've both grown up somuch!"

Our day together is bittersweet.
Amazed,I ponder the strength of true childhood friendship, the kindthat
lasts for years, the kind that survives thousands ofmiles.
Before I leave, we linger outside the car,desperately clinging to the
moment.
The sun sets intothe hills behind us, the dark closes us in.
She smiles andsays, "Well, good-bye for now. I hope we can
see eachother again soon."
Me too.
Before high schoolgraduation.
Before college.
Before marriage andchildren.
Soon.

*Aloha is Hawaiian for good-bye, hello and love.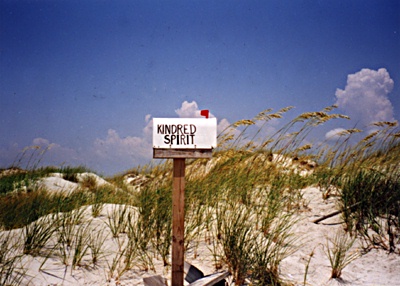 © Logan C., Clemmons, NC