The Sixth Man?
MAG
Have you ever worked hard toachieve a goal just to have your hopes shot down by a parent,friend, teacher or coach? I have, and it hurts. It feels likeyour heart is being slowly torn from your body. Then theydissect you and put you on display - make an example of you.It's not enough simply to say, "You aren't what we'relooking for," or "I'm sorry, you're just not goodenough." Even after the knife has left you bleeding, theyinsist on humiliating you and taking away your self-respectand dignity by forcing you to "talk" to them aboutyour feelings and "listen" to them tell you aboutall the positive things you did and the few negatives thatkilled your dream. All you really want to do is crawl into adeep, dark hole and hide your failure and naivete from theworld. At least that's how it was for me.

The autumn ofmy sophomore year of high school I was getting ready forbasketball try-outs - just as I had for the past six years. Iwould never say basketball was my life, but I was dedicated tothe sport and the team. Over the summer I had attended all thecamps the coach offered and made a point to make it to theopen gyms. I was hoping to improve my skills enough to makethe team. The month before try-outs, I conditioned every dayto prepare myself not only physically, but mentally as well.When try-outs finally came, I was convinced I would make theteam.

Try-outs went better than I expected. When thetime came to announce the Lady Warriors basketball team I wasnot surprised I had made it, but I was surprised to learn theywere keeping 14 girls on the JV team (including me). I wasdisappointed and knew deep down not all of us wouldplay.

The next day the coach requested I meet her. Whatstarted out as a typical player-to-coach talk soon turneddisastrous. She didn't know how hard I had worked in theoff-season, but she was more than willing to tell me that nomatter how hard I worked I probably would not see much playingtime. I was devastated! Now, knowing I was the low man on thetotem pole, I had a huge decision to make: do I stay on theteam even though I won't play?

I went to practice thatday and somehow everyone had heard about my little discussionwith the coach. I tried to pretend nothing had happened. WhenI finally got home, I tried to hold back my tears. My parentswere so happy I had made the team that I was willing to stickout the season for them. At the dinner table, my dad decidedto discuss the day's practice. Unable to hold it in anylonger, I spilled the whole story. After a discussion with myparents that lasted several hours I decided it was in my bestinterest not to play basketball. Now I can say it was one ofthe most painful and hardest, yet smartest, decisions I evermade.

I learned not to careabout what was expected of me by others if I wasn't happy. Ialso learned a lot about self-respect. By not playingbasketball I was able to do things that I had neglected. Icould concentrate on my schoolwork and music. I actually hadtime to sit down and play the piano for the first time inyears. My family and friends got to know me because I was homemore. (I'd forgotten how cool they were.) I found a newinterest in art and discovered I can actually draw and paint!

I think in everyone's life there is something theywould give anything for, and sometimes that blocks our truetalents and loves. We need to put that aside to explore new,or maybe old, possibilities. It's good to know one's talents,but when they get in the way of new opportunities, it's timeto sit down and think. A small decision now may be the biggestof one's life.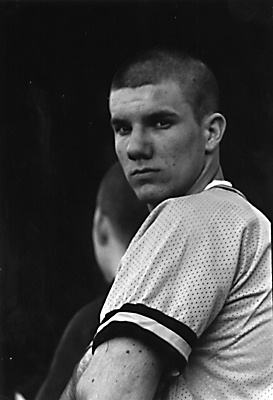 © Chris C., Milford, CT