The Pledge of Allegiance
MAG
It had been a very long night and then I was ina place I did not want to be, my fourth-grade classroom. I sat at mydesk trying hard to avoid conversation with friends. The bell had rung,and class had started.

It was tradition that every morning theteacher picked someone to stand and lead the Pledge of Allegiance. Ifolded my hands in prayer, my elbows digging hard into my desk andstarted whispering, "Please don't pick me, please don't pickme." Apparently, God was not listening. Maybe some greatcatastrophe had taken place and He was too busy. The teacher picked myname out of 32.

Slowly, I stood up. My hands were cold. Icould feel my legs giving way and I tried hard to maintain my balance.My head filled with a rush of heat as I began. "I Pledge Allegiance..." I couldn't speak anymore. Something had caught my voice, andI felt tears form. Feeling all eyes upon me, I began to sob.

Myteacher brought me to the back of the room.

"What'swrong?" she asked. I couldn't tell her the truth. I could not evenbear to think of what was happening at home, never mind talk about it.My mind searched desperately for some other reason why I was so upset. Itold her my great-grandpa was dying, which was true. She began to crywith me, but I barely even knew my great-grandpa. I felt a wave of guiltpass over me. I had lied and made her cry, but I could not tell her thetruth. I was too hurt.

I fell silent while she tried to consoleme. The words that flowed from her mouth related her sad experiences.Unfortunately, they were meant for someone else who could appreciate hersympathy. I was still wondering why my parents told me on a school nightthat they did not love each other anymore.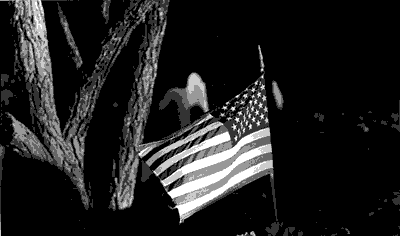 © Kimberly R., Marblehead, MA