The Man Behind the Beard
MAG
My favorite holiday, without a doubt, has always beenChristmas. I love the atmosphere of joy, the noises and fragrances of the roaringfire in the hearth and the carols we all know by heart filling our house to thebrim with spirit. Christmas is also a holiday of tradition, whether a specialwreath in the same spot every year, or a particular person who always drops inaround the holidays.

My eighth Christmas was unlike all others and standsout in my mind as if it was in bold print and underlined in red. The stage wasset for a perfectly delightful evening of eating, celebrating and opening gifts.Some say I'm lucky, since my heritage allows me to indulge in opening presents onChristmas Eve rather than the following morning.

As for tradition, one ofmy family's favorites is meeting and conversing with the "Big Man"himself. Now, though our parents hadn't exactly come out and told the kids, it was quite obvious that the man in the red suit was, in fact, my father.Various similarities in appearance, voice and personality led me to thisconclusion, not to mention that my dad, mysteriously, was never around when KrisKringle was in the vicinity. But we've always gone along with it.

Latethat Christmas Eve, as the fire began to smolder, the time had come foryou-know-who to make his big entrance. We heard his jingling bells in the nextroom so, playing along, all four of us kids ran in and acted surprised when wesaw St. Nick. Our performance was a masterpiece! Of course, my dad haddisappeared and was nowhere to be found. But halfway through the "act,"while looking for signs of our father under the suit, who walks into the room butgood old Dad himself! Huh? If he's over there, who's behind the beard? Myeight-year-old mind raced, searching for answers. Had I been mistaken, misled,misdirected? I suddenly began to reconsider seriously Santa'sexistence.

The rest of the night was, needless to say, unlike any otherChristmas. Oh sure, it was filled with excitement, joy, laughter andtogetherness, but also confusion and questions. That night, I fell sound asleepstill wondering, Who was the man behind the beard?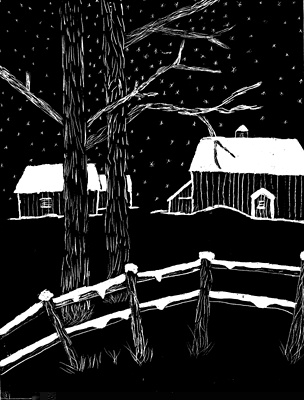 © Anthony P., Gulfport, MS