Bronx Science
MAG
On the morning of the first day of school,I reluctantly got out of bed, got dressed, met my friends and went to school.When we walked in, we saw:
A very colorful "scientific" mural thatlooks like a Christ memorial.
Freshmen in awe of the different aspects of theschool, which we knew would soon turn to hatred.
A clean yard, which had beenbarely used over the summer, which in a matter of days would be ankle-high ingarbage.
Twelve kids playing football, one of them on the ground for he hadjust tripped over a bench and fallen.
A cheese bus pulling up and the kidsscreaming, "No, not school, not now!"
Many teachers just as unhappyto be back in school as we were.
Best friends reminiscing about their summers,even though they had seen each other just last week.
The druggies already highon Harris Field.
Seniors pulling up in their cars, looking and laughing at therest of us because we don't have cars.
Someone saying, "And the torturebegins," when the bell rang.
A boy who looked like he had just been letout of prison after first period ended.
Old teachers who should've retiredlong ago.
As soon as the bell rang the teachers running out of the room fasterthan the kids could.
A kid trying to impress some girls by skateboarding andlanding flat on his back.
Freshmen with their huge backpacks.
A group ofkids playing hacky-sack in the yard.
Kids complaining about their schedules,about their lunch periods and especially about their teachers.
A group of kidsgambling in the yard and the security guard looking right at them, but notknowing what they were doing or what to do about it.
Seagulls going after thegarbage that was already in the yard.
A new teacher getting lost and notknowing where to find his next class.
A crowd of kids getting out of the mainstairwell because the freshmen don't know how to use the other stairwellsyet.
Nothing new, because of all the budget cuts.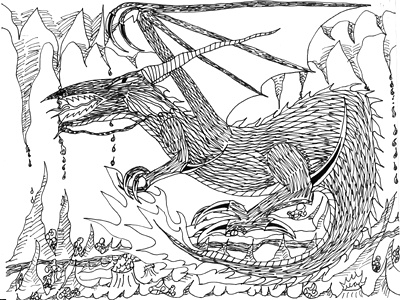 © Adrian A., Las Guces, NM