Focus: Love: The Phone Call
MAG
The bright red blinking light on my answering machine
reflected off mymirrors.
I pressed the button, holding my breath,
hoping it was him.
Acool wind blew across my face from the open window,
as I heard his deepvoice,
"Hey Chels, it's me.
Please call me back."
My sweatyfingertips slipped off the buttons
while I dialed his number.
As thephone rang,
ideas of what to say
were clowns doing cartwheels in myhead.
"Hey, what are you doing?"
No.
Maybe,
"So, Igot your message."
No.
How about just, "Hey, it'sChelsea."
The ringing ceased and I heard
his strong, serious voice:
"Hello."
"Hi," was all I could say.
"Hello," he repeated.
He did not hear me.
I slowly loweredthe telephone
and placed it back on the receiver.
The next day,
thebright red light had faded,
the reflection in the mirror diminished.
Theblinking stopped,
and the message disappeared.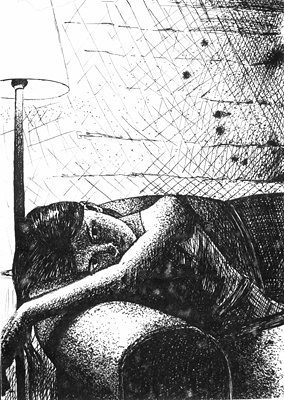 © Elisabeth R., Elmont, NY