The Morning Climb Aloft
MAG
The ocean ... the smell of the sea on a breezysummer morning. The sound of the seals and birds saying hello. The wind blowingin my face and the tired look on everyone else's at 7 a.m. The wide-open sea withnothing around, just us and the waves splashing against the boat.

"Good morning," the captain says, bright and cheerful as usual."Ready to get to work?" We all grin, and it starts.

There arecommands from left and right: "Wash the deck," "Raise thesails" and so on. Finally comes the dinging of the bell.

Alright,time for breakfast, a very important part of a sailor's day. After we eat andclean up - got to love doing dishes on a boat - it's time for some to get to workand some to relax.

My group isn't on right now, so I go out to the frontof the boat and decide I'm going to do it - I'm going to go aloft. I ask thecaptain, who says I can. Putting on a harness, I am ready to go. I give thecommand, "Going aloft."

I start to climb and at first I'mfine, but then things start to get a little scary. Three points of contact, Ithink. Before I know it, the rungs get smaller and smaller and my heart starts topump faster and harder. This is really high, I think. My feet don't fit anymoreas I near the top. Now I'm using my toes to climb. Someone calls my name frombelow and waves. All I can do is smile, for fear of falling. I get to the lastfour rungs which, because they're too narrow for anyone's feet, have woodensticks securely attached to the rigging to step on, which makes it very easy tolose your balance. I reach the top and clip in.

I look up; it was allworth it. The newly risen sun is beautiful, and so is the sky with its few cloudsand cool breeze. My crew mates below wave and smile again. This time I can waveback. After half an hour of relaxing and spending time with myself and the boat,Captain yells up, "Aloft."

"Aye," I reply, and hetells me to come down to raise the main sail. "Aye," I say again andstart my journey down.

"On deck" is my command, and the captainacknowledges me. I am off to set the main sail with the rest of the crew.

It is smooth sailing from there, as I watch my friends go through thesame experience I had of climbing aloft for the first time.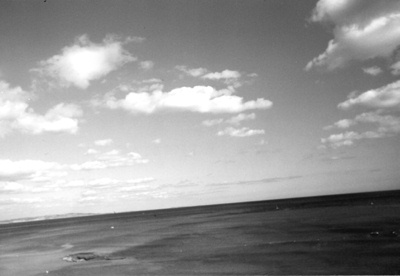 © Nikki C., Phoenix, AZ