Visiting Tanana
MAG
"Welcome home, kids," my aunt greeted meand my little brother as we stepped off the riverboat. I was 14 and it had beennine years since I had set foot on the sand beach of Tanana, Alaska. It was adreary July day in this Athabascan village. We were there for the potlatch, amemorial service for three of my relatives who passed away in the Alaska Airlinescrash.

We skipped along behind my mom as we went up the little hill. Iwas nervous to visit the relatives I hadn't seen for so long. Mom told us we'd beintroduced to many we'd never met, which made my stomach sink. My brother didn'tseem nervous, just fired up.

My first glimpse of my family was of myuncles and their friends as they prepared the food for the potlatch. I stoppedand talked to the relatives I knew. My brother hopped onto the back of afour-wheeler for a ride to the field where the service was to be held.

AsI was walking down the dirt road, my aunt drove by in a truck and I leaped ontothe back. As we neared the potlatch site, we could hear the natives of StevensVillage, down the river from Tanana, singing in their language. It confused me atfirst because I had no clue what they were saying while everyone else did, so Iasked my aunt. She said they were singing a traditional song.

After that,my mom took me and my brother around to meet everyone. It was exhilaratingbecause they were so full of positive energy and respect. They welcomed us intothe village because they really cared about us, and we cared about them. Eventhough I had never met most of them, I felt as though I had known them allalong.

At the dinner part of the potlatch, some of my relatives gavepresentations about those who had died. I was distantly related, and everythingthey said made me feel closer, like they were a part of my life. I felt so muchsympathy because this was such a devastating event for my family.

Westayed in Tanana for the weekend and on Sunday put our things onto my uncle'sriverboat for the three hour adventure to Maley. There we climbed into anotheruncle's truck and drove three more hours to Fairbanks.

I had gone toTanana thinking no one in the village would notice me because they'd be toocaught up in the death of my relatives. I am happy to say I was wrong. They wereso excited and I could tell they loved me and my brother very much.

I leftAlaska feeling more confident. I respected myself and others more. Now I know Idon't have to have actually met family members for them to care about me or forme to care about them because in the end, I found out, it all comes from theheart. No matter what, I know there will always be someone in this world wholoves me.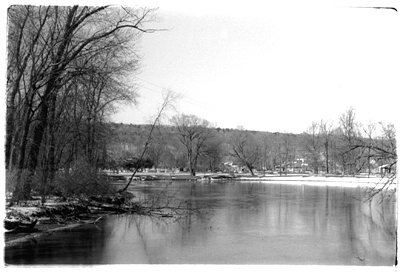 © Simon I., Lansing, NY