My Story
MAG
I would like to be able to say I lived a normallife like any other kid, but unfortunately, I can't. I moved in with my father atthe age of seven when I had some disagreements with my mother and decided I likedmy father better. Not long after, we moved and started a family business. Iworked there as hard as anyone else and to this day consider it my firstbusiness. Since then we have owned two other businesses.

My life startedto get interesting while we owned the third business, Frederation Computers andBailbonds. My father's name being Fred, we felt Frederation was fitting.

Well, one fateful day I needed money. I was working a stand at a fleamarket trying to sell computers. I was 15 and felt great that my dad trusted meto run a stand by myself, well, me and a friend of mine. Things were slow and wedidn't sell anything. Then a man came up asking about a hard drive. The price was$100. The man was only willing to pay $80, so I agreed and was excited to havesold something.

We didn't sell anything else that day, and I still neededmoney. When my dad showed up, he asked about our sales. My friend, Alfred,started to tell him, but I cut him off, saying we hadn't sold anything. My dadleft it at that and I found myself with $80 in my pocket.

Later that daywhen we got back to the shop, my father did an inventory of everything we hadtaken to the market. I had gone out to spend my newfound cash.

That nightmy father came home and asked about the missing hard drive. I lied and told him Ididn't know anything about it. He said he knew because he'd just finished talkingto Alfred. I still denied it, saying Alfred was lying. My father told me all hewanted was the $80 back. I had already spent $60 of it, and was too proud toadmit what I'd done.

To this day, and until the day I die, I will alwayswish I had had the nerve to stand up and say, "I did it," because ameasly $80 has landed me where I am today, away from my family and servingtime.

My dad said I had to work off the money. The next day I left a notesaying that I had taken the money, and was sorry. I then grabbed the keys to mystepmom's car and left.

The only money I had was the $20. My destinationwas California. I really had no idea what I was going to do when I got there, Iwas just leaving. I was a little short on cash to make it all the way, so I stolegas.

I drove nonstop and did six gas-and-runs. When I reached the SierraNevada mountains in California, my car broke down so I called my aunt who livednearby to come and pick me up. While I was waiting for her I fell asleep in thecar.

I woke up with two guns pointed at my head and a police officeryelling at me through a bullhorn to step out of the car and to put my hands wherehe could see them.

I don't think I have ever been so scared. It was thenthat the reality of what I had done actually sunk in. The police took me to ajuvenile detention facility. After spending three of the longest days of my lifein there, I was released to my father and my case was transferred toColorado.

My court date was scheduled for two weeks later, but I didn'tmake it that long. I stole a carton of cigarettes from my dad and he caught meagain.

This time a friend came with me and we took his aunt's car. We leftthe state again and headed for Illinois, because my brother lived in Chicago. Wedid gas runs on that trip as well.

Not long after we crossed intoIllinois, we had to steal more gas be-cause we had absolutely no money and endedup getting into a police chase. I hated that. I always watch movies and TV showswhere the good guys chase the bad guys. In this scene, I was one of the bad guys.The worst part was that I dragged one of my best friends into it with me. I feltresponsible for him.

The chase felt like it went on forever. It also keptgetting faster and faster. The speedometer stopped at 140, but I know I was goingfaster. We pulled off the interstate onto a country road. We almost got intoseveral accidents on that road. I was driving so fast I couldn't maintain controland we eventually ended up in a bean field. We left the car and ran on footthrough a corn field. It was the middle of the night and kind ofcreepy.

Running from the police on foot was even worse than running fromthem in the car. Dogs were sent to track us down, but they couldn't smell usbecause the corn was wet, so I guess you could say we were lucky.

We endedup spending nine hours hiding in that field. When we came out on the other end ofthe field, we ran to a house and stole their car too. I never liked stealingpeople's cars; I did it out of necessity. The whole time, I was thinking how muchI would hate it if someone stole my car.

After taking that car weheaded back to Iowa, deciding to visit my brother later. Not long after wecrossed into Iowa, the car overheated and we were forced to hitchhike to a gasstation to find another car.

After stealing yet another car, I fell asleepat the wheel and slammed into the back of an 18-wheeler.

That is onemoment I will never forget, because I almost took off my friend's arm. He wassleeping with his arm hanging out the window and the back of the trailer barelymissed his arm when we grazed it. That scared me a lot.

We wrecked thatcar and stole another. Not long after we stole that car we got into a secondpolice chase. At one point they tried to form a road block with their cars. Thepolice were posted with their shotguns and pistols pointed at the car.

Icalled their bluff, telling my friend to buckle up, and sped up. I cringed asadrenaline coursed through my veins and I noticed they still weren't moving. Wegot closer and closer and finally it broke. It was just in the nick of time. Ifthey had waited any longer we would have slammed into them going 90 miles anhour.

Soon, we entered a town. I hadn't slowed down because I had at leastten police officers hot on my tail. One block into the town a black convertiblepulled out in front of me. I swerved to miss him and lost control. We slid acrossthe road and slammed into the back of a dump truck. The entire front end of ourcar was smashed in.

We were lucky; neither my friend nor I was hurt,and no one else was either. To this day, I thank whoever was watching overus.

We ended up spending a month in a juvenile detention center inIowa, after which I was given an ankle monitor and sent back home toColorado.

This was probably the hardest time for me. I had actuallydecided to stand up and face my problems, but the ankle monitor made it so muchharder.

The only places I was allowed to be were school, home and work. Ihad to schedule my day so that my pre-trial officer knew exactly what time Iwould be home and exactly when I would be elsewhere.

This intenserestriction finally drove me to cut my ankle monitor and steal another car. Itdidn't take long before I found myself back in a detention facility, wasting mylife away.

They decided to keep me in detention until my court date, but Ididn't stop there. I was placed in a program to await my sentencing. I hatedbeing there so much that I escaped and took yet another car.

By now I haddug myself so deep a hole that I was definitely going to serve time. Aftergetting into another police chase and getting my name in the paper for somethingI will never live down, I landed back in jail.

I have to admit it, I gotoff ex-tremely easy for all I did. My sentence was a mandatory one year with amaximum of two years. The District Attorney was pushing for me to be tried as anadult and sentenced to 35 years, the maximum penalty for an adult.

I stolea total of eight cars and got into three police chases over a measly $80, allbecause I was too proud to tell my father I had done something wrong. If I couldtell anyone just one thing, it would be not to act on impulse. One minor thingended up turning into two years of my life. Please, do not end up like me.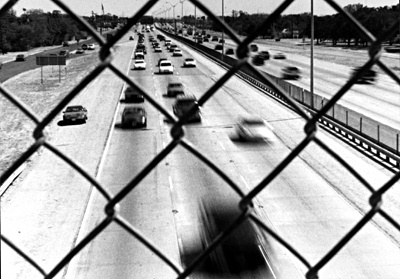 © Matt B., Highland Village, TX