Upset Victory
MAG
Wow,this is nuts, I thought. I was overwhelmed; the atmosphere was unreal. Kids werescreaming, the bleachers were quaking, flustered teachers were making vainattempts to control the surging mass of students. It was madness; licensedeuphoria filled the gym and I wasn't sure if I could endure themayhem.

The pep rally was organized bedlam. This point cannot beemphasized enough, for the scene was so inundating that during those first fewmoments I was only able to process a general sense of pandemonium. Painted faces,blaring music, odors of sweat and cologne, clammy hands and stagnant air combinedto consume my senses. The revelry around me could have been acceptable, evenenjoyable under different circumstances, but these circumstances didn't exist. I,impossible though it seemed in my mind, was about to receive the award thatrepresented the antitheses of my personality.

"Did you hear we gotnominated?" Lisa had asked a few days before, half-excited and half-worriedabout my response.

"Uhh ... yeah," I muttered."Great."

A pause. I rolled my eyes and tried to dismiss thisincredible, inconceivable notion. It wasn't going to happen. People would come totheir senses. I would be spared the public spotlight.

"Hey, I heardyou guys got nominated for Homecoming Court," one of Lisa's friends said asshe strode into the lunchroom. "Congratulations."

Lisa handledthat conversation while I struggled to come to grips with the situation. I hadbeen nominated for Homecoming Duke of the sophomore class. It couldn't be. I wasthe nerd of the class, to the point where math homework was inviting, writingassignments were stimulating and physics labs were practically seductive. Nerdsdidn't make it into the Homecoming nomination. Some sort of cosmic social statuslaw must have been violated.

My athletic pursuits didn't exactly enhancethe likelihood of this cataclysm befalling me, either. As a runner, I was onlymoderately successful in a sport deemed by the general populace to be pointlessas well as painful. It was illogical, unprecedented and presumptuous for me tobreach the rigid divisions in class structure.

Then I thought I had foundmy answer. It had to be Lisa. Here was a girl who fit the specifications forHomecoming. She was popular, though not upper-echelon. She was athletic and amember of the prestigious girls' soccer team. She was friendly, well-liked anddefinitely admired. Why she decided to date me, I don't really know (I chalk itup to one of those "Don't even bother trying to understand women"occurrences). So that must have been it. The sophomore class was short oncouples, and this bizarre relationship between a noble lady and a common nerd wasthe only thing our peers had that they could nominate. We were a last option.We'd been nominated, but we wouldn't win.

That night at dinner, I slippedinto a half-conscious state. Across the table, my sister rattled off the eventsof her day to my parents. Mom was firing questions back, inquiring about what itwas like to be an "upperclassman," which is, in middle school, aneighth grader. Dad murmured occasionally, his attention torn between spaghettiand Kelsey's interest in a boy in her math class. I tried to be inconspicuous bystaring at my garlic bread, noting its intricate texture and how well the butterhad been spread. Eventually my sister's account dried up, forcing conversationalfocus upon me.

"Anything interesting happen to you today,Stephen?" Mom asked.

I took a deep breath. "Actually,yeah." I swallowed.

Dad looked at me. "What?" heinterrogated.

"Lisa and I got nominated for Homecoming ... you know,to be duke and duchess."

Silence.

My sister dropped her forkon her plate and observed me with wide eyes. She was, for perhaps the first timeever, speechless.

"That's great, honey," Mom exclaimed. "Ididn't know you and Lisa were officially dating."

"We're notdating, Mom. It's just some goofy nomination." I was in pretty deep denial.No, Lisa and I didn't call it dating, or even being "together." Infact, we really didn't put any label on our relationship at all. It was weird. Icouldn't bring myself to call it dating, but I couldn't help but engage in thisnewfound pleasure.

Kelsey recovered from her initial shock and sized upthe situation. Her tongue had created many laughs around this dinner table at myexpense. I braced myself.

"Sounds like you guys are dating tome," she asserted. "They wouldn't nominate you unless you weredating." Well, that didn't rile me too much. I'd just denyit.

"That's not true. We're not dating. We're just goodfriends."

"Kelsey, don't work up your brother over hisgirlfriend. It's tough when you're a teenager. You can get very emotional,"Dad added. I knew he had laid a trap for me, but I couldn't resist responding. Hewas able to don the mask of concern in order to exacerbate the weaknesses in myirrational teenage philosophy.

"Dad, we're notdating!"

"I see what you mean, Dad. They can getemotional." Kelsey and Dad chuckled while Mom tried to console me and my redface.

Friday morning, before leaving for school, I prayed. I asked God tobless the day, to make it one that He would be pleased with. I left theHomecoming situation in His hands and let the worry go. Finally, I had peace. Itwasn't the sort of peace that brings closure, or the peace that decreasesanxiety. Rather, it was a peace that assured me that life would be okay. Ithelped me discard some of my irrational thinking (though not all of it) and startthe day with a relatively normal pulse.

That peace lasted through firstperiod in study hall. That tranquility extended to the beginning of the pep rallyas I sat surrounded by my cross-country teammates. I shrugged off their inquiriesand told them to keep cool and wait for the announcement. They'd know then. I'dknow then.

After a few opening words and a cheer from the varsity squad,the program arrived at the gut-wrenching moment.

"Quiet down,sophomores. Simmer, freshmen. It's time to announce your Homecoming Court,"clamored the host. The gym, caught for a moment in silence, exploded into cheersafter the announcement.

I struggled to retain the wisp of placidness whichhad been keeping my uneasiness at bay. My mind flooded with images from the pastfew days. These thoughts were followed by a backward journey through mychildhood, ending with an image of my preschool sweetheart. Where did that comefrom? I demanded of myself. I tried to put aside the barrage of sentiments; itwas futile. My brain had been restricted for the past 72 hours. Now, at myweakest point, the dam holding back the depths of premonition and anticipationburst, leaving my psyche momentarily engulfed in the surge of cerebral activity.My thoughts got the best of me.

I've got to stop this, I commanded myself.I've got to prepare myself for this announcement. Who cares what my sister saidabout me? She doesn't know what it's like to be a kid identified by so manydifferent people in so many different ways. Besides she - no, NO! I will notworry about getting embarrassed or shot down. This is no big deal. Lord, help meto calm down! It's a misunderstanding, that's all. I'm not dating. Really, I'mnot ...

"Steve Palmer," roared the host. The crowd went nuts. Ishook a bit as I stood, dazed by my intense mental activity and the reaction ofthe crowd. My teammates slapped me on the back. Their shouts became one with thecrowd. I faltered forward onto the gym floor. I half jogged to the hosts whilewaving. Looking back on those ten seconds, I'm fairly certain that I was in someother realm of consciousness.

This experience was so consuming that Iactually missed the announcement of the duchess. When Angela was crowned, I wasstunned. I knew it was possible for couples to be split up, but I wasn'texpecting it. The rest of the pep rally continued as planned; Angela and I satenthroned while the football players were introduced, the cheerleaders fired upthe gym, and a mock game of "Survivor" took place. I finally spottedLisa in the crowd. She seemed a bit perturbed. Oh, great, Ithought.

"Nice job, man," Chris exclaimed while giving me ahigh-five after the rally. "That was awesome. I voted for you. It's so coolthat you won."

"Thanks," I faltered. "Let me ask yousomething, Chris. Don't you think it's a little weird that a guy like me is votedHomecoming Duke? I mean, not that many people know me."

"Are youkidding?" he responded incredulously. "You may not be the typicalpopular kid, but people definitely admireyou."

"Really?"

"Yeah man, really." Hewalked off with a grin, shaking his head.

Lisa greeted me in the hallwaywith a big smile.

"Congratulations," she said. A conversationtook place thereafter, but wasn't necessary. The majority of our communicationtook place in that one word. When she said it, I knew what she meant. She meantthat she was happy for me. She meant that she was only slightly regretful. Shemeant that it was no big deal. It was a comfort, that word. It quelled my puerilenotions and straightened out my mind. I didn't feel like I had to apologize, ormake any other attempt to remedy the situation. She said good-bye and headed toclass, and I was amazed.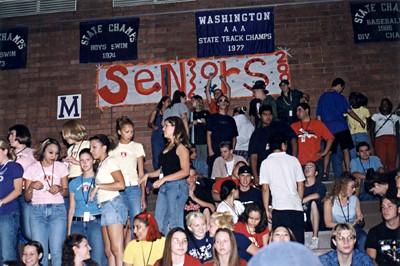 © Christopher A., Phoenix, AZ