A Simple Confession
MAG
Schoolnights were always the longest, with nowhere to go and no one to see. For me,that changed the end of junior year. For at least a month, I stayed up to allhours of the night, eating cookies and drinking milk while chatting on the phoneabout trivial issues with the boy I adored, the boy who moved miles away forcollege. Night after night we would talk, the hours flying by. It was absoluteheaven. Never had I felt so wonderful about anyone.

Every day was thesame: I'd rush home from school, pick up the phone and arrange a plate of Oreocookies while waiting for him to answer, then I'd run to my room. We talked abouteverything attainable to the human imagination. I told him all my secrets andconcluded that even though he gave me goose bumps, he was one of the few peoplewho never made me nervous. It wasn't until the night I heard the magic threewords uttered in his voice for the first time that I realized how wrong Iwas.

It was just like all the nights before: milk, cookies, lying on anunmade bed, and discussing nonsense. I had already changed into my worn flannelpajama pants and an old t-shirt and was making myself comfortable under theblankets while playfully arguing about which was the better baseball team, theYankees or the Red Sox. The conversation started to die out after a bit, and thebed was much too comfortable to resist. I started to drift off, and told my phonebuddy that I was tired and wanted to go to sleep. I was excited to hear thedisappointment in his voice when he asked in a pained voice if I were reallyleaving.

"Yes, I'm exhausted," I replied. He proceeded to tellme good night, and as soon as I repeated sleep-well wishes to him, he blurted,"Don't go." I started to protest, but he asked, "Please, will youstay?" I couldn't say no, and sleepily told him I would, but only for a fewminutes. I could sense he was smiling, which in turn made me grin.

We weresilent for a moment before I started to mention an incident that I had forgottenbefore, when he interrupted and stuttered something so quickly and muffled that Iasked him to repeat it.

"I love you," he said again, and I heardhim hold his breath for my response. I sat for a moment trying to comprehend whatI'd just heard; and before I could fully grasp his confession, my whole body wentnumb with heat, and the blood rushed to my face so fast I thought it might startpouring out of my nostrils.

I tried to reply "I love you,too," but no words came out, just spastic breathing. He asked if I was stillthere, and somehow I managed to mumble yes. He repeated himself, only this timewith less assertiveness. Again, I could not respond. I sat like a trembling fishout of water, clinging to the phone and looking at it with a horrifiedexpression, as though something terribly disgusting had just shot out of theearpiece. Finally, without saying a word, I hung up the phone, stillshaking.

In a second, the phone rang. If I answered I could pretend thehang-up was an accident. Of course, I'd be stuck having to face the threemind-numbing words. I picked up the phone and placed it right back on thereceiver, praying that it wouldn't ring again. After a minute I laid down. Istared at the star-covered ceiling, wondering about what had just happened. Then,before I closed my eyes, I whispered to no one, "I love you, too."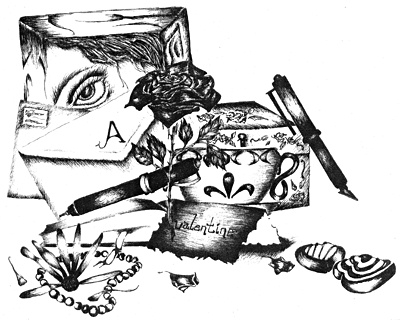 © Cara L., Cheney, WA