Someone Special
MAG
Fromthe moment I looked in her beautiful eyes and watched how her hair rested on hercheek, I knew she was someone special. Her smile seemed to shine brighter thanthe sun, and the only thing brighter was the twinkle in my eye when I saw her. Iknew she was someone special.

When I walked to her porch and gathered thecourage to ring the doorbell, I watched her run down the stairs and again hersmile illuminated the room. We spent the day together walking, and I thought shewas the most beautiful thing in the world. We talked for hours until we knew weshould go. We walked back to her house and watched TV. As we sat, her handtouched mine and her head rested on my shoulder ... I knew she was someonespecial.

Many days passed before I saw her again. We were in the samesituation, sitting and watching a show. What else was there to do? I looked ather, she smiled. It was as beautiful as a morning sunrise over a mountain peak. Ileaned in, my lips pressed against hers, and it was over - my first meaningfulkiss. Then, I knew she was someone special.

The days turned into weeks,and the weeks into months. I knew she was the one. Our bond grew closer; itseemed we could never be torn apart. We cuddled, and for the first time I toldher I loved her. She replied with a simple, "I love you, too." Who knewsuch simple words could mean so much. Then, I knew she was someonespecial.

I thought we would be together for always. I thought things wouldnever change. I talked about her all the time. Friends would dread to see mecoming for fear of hearing another story about her. They all knew she was someonespecial.

But the day finally came. It was horrible. With all we hadbeen through, I thought I didn't have to worry. I thought we would spend the restof our lives together, but some other guy walked in and within a few hoursmanaged to obliterate everything that had happened in nine months. It hurt sobadly. So many thoughts raced through my mind. Which way should I turn?

Istill love her. I still want to be able to gaze into her beautiful eyes. I stillwant to see her radiant smile, I still want to be able to move the hair from hercheek, kiss her and tell her I love her. Will I ever have my chance? I can onlyhope and pray to the heavens. I love her, and I know she is someone special.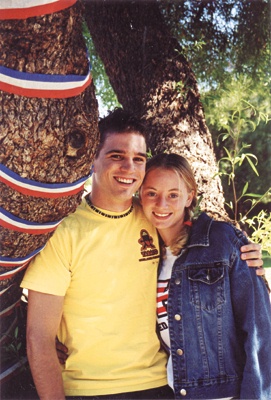 © Kelly D., Phoenix, AZ