Summer Gone
MAG
"My feet take me here when my mind is too saturated to worry about direction. Thewaves have this gravity that draws me when I feel lost. The worn-out wood of theold pier, the freedom of the tern as it circles, floating on a current of air,the sand and salt-covered stones. They offer consolation and ask for nothing inreturn, only that I visit once in a while. This place breathes images of mychildhood, of sunburned days spent building sandcastles, and swimming with mygrandmother ...

"Grandma, it's 10:30 already, we're gonna miss hightide!" I threw open the screen door of the house where my mother had spenther childhood summers, just up the hill from the beach. My grandma had it madeand didn't even realize it, I thought. What was she waiting for?

"Hurry up! We gotta go!" I shouted as I ran barefoot down thehallway. I was five and wore a sky-blue swimsuit, which Grandma said brought outmy "smilin' Irish eyes." We share those pale blue eyes, fair skin andfreckles that whisper of the green land where she was born - something I thinkshe's always been proud of.

"Patience, Katie," she said as shewinked. She grabbed two towels and packed a small cooler with a diet Coke, anapple juice and oatmeal cookies - two for her and three for me. Then we set offfor a day at the beach.

The sun made everything sparkle on those hotsummer days. The glitter that moved on the water was only accentuated by thesplashes and high-pitched laughter of children. They were delighted by theseaweed that tickled their toes, and in awe of the boy by the pier who proudlyshowcased the blowfish he had snatched from the sea.

My grandma and Iwasted no time in entering the blue-green water where she taught me to swim andbecome part of the waves. She would hold me in her solid, comforting arms - armsthat had raised six children, losing one at the age of three, another to drugs inthe '60s, and still another to schizophrenia. At the time, I knew none of thispain, just the feel of her reassuring arms as they held me afloat.

Thosesummers, sun and salt-water drenched, seemed to evaporate. The familiar faces onthe beach dwindled as children grew older and sought deeper waters, andgrandparents found themselves in hospital beds and nursing homes. My own grandmacould no longer walk the familiar shoreline in the summer sun. Her fair skin hadbeen far too welcoming of the dangerous rays, and was left with innumerablefreckles and odd cancerous markings in the wake of 78 summers.

I openedthe door gently, so as not to startle her, and was greeted by those youthful blueeyes, like I was looking in a mirror. She had shrunk to five feet, and her hairno longer shone silver, but a bright white.

"How are you,Katie?" Her words came slowly, the lines on her forehead knotting togetheras she tried to get them out, the effects of a small stroke. But I waspatient.

Last August, my Uncle Tom, Grandma's baby, came to visit with hiswife and two young children. It was an annual visit to give the kids a break fromCalifornia oceans, so far from the gentle waves of home. I watched my cousins runthe length of the high-tide mark, strewn with seaweed fresh from the recedingwaters, hoarding scallop shells and squealing with

excitement as theydiscovered an ancient spider crab approaching shore to lay her eggs. Suddenly,there was a chorus of shouts and splashes as a crowd formed around a tiny girlholding something in her hand. The children giggled as she rubbed the blowfish'ssoft white underbelly and it puffed itself out to three times its size.

Isat on my towel, and watched from afar, no longer part of the magic. My grandmasat in her quiet little house, just up the hill. At the end of the week, UncleTom had to return to the rough waters of the Pacific. I walked the five minutesto my grandma's house to say good-bye. As the van headed to the airport, Grandmaand I were left alone on the tiny lawn. I heard a small sound, a sad, sad sound,and turned to see my grandma trying to hide the tears that fell from her blueeyes, like the salt water that had once given her so much strength. I had neverseen her cry; she looked so frail and vulnerable as I wrapped my arms around her,trying to find words of comfort without revealing the lump in my own throat. Hertears fell on my shoulder as she gave in to the warmth and comfort of my armsaround her tired body, her translucent skin, the veins that ran blue...

So that's why I'm here. That's why the sea air dries the salt water onmy face, whether my tears or its own. I wanted to feel the magic of this place,when this beach and blue sky were so much bigger, and held limitlesspossibilities. When a scallop shell was a treasure of immeasurable worth, and mygrandmother and I welcomed the warmth of the sun. When Grandma's arms were strongand warm, and shielded me from the tides I was not ready to swim against.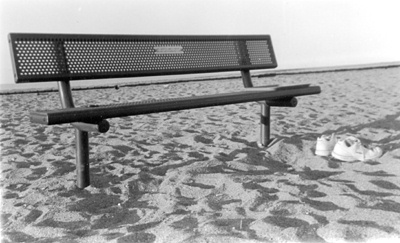 © Jenna H., Marblehead, MA