My Father
MAG
When I get off the Greyhound bus there is always that moment when I see the man wholives his life when I am not there. It is as if he is a normal person, and not myfather. It is a strange feeling. This makes me realize that in some ways everyoneis the same. When the sardine can of a bus pulls into the terminal, I see amiddle-aged man slouched next to his pristine white car. He's dressed in khakishorts, a golf shirt, baseball cap and white sneakers. That is it. Nothingspecial. He is just an average guy.

But then it hits me, Hey, that's mydad. Then my brain subconsciously reminds me of all the little things I knowabout him, like how he smokes Kent IIIs but occasionally buys a pack of MarlboroReds. Or how one of the first things he does when he gets home is vacuum theliving room. And after that he cleans the mirror on the coffee table. My brainswitches into this mindset seconds after looking at the man with poor posture,tanned skin and dweeby aviator glasses. If it weren't for a hooded sweatshirt andcurly hair this might be the Unabomber.

At home I get to spend time withmy dad. Dressed in his freshly washed Levi's and gray sweatshirt, we watch TVlate into the night. Actually, I watch TV. After an hour the man next to mesuddenly falls into a deep sleep. He does not sleep quietly, though. He snores,loud as hell. Over the years I have learned to block it out, but I am stillalarmed when, with one final "arrrrgh," he stops snoring and ceases allmovement. Is he dead? What is going on? I grab his shoulder and shake him untilhe awakens and declares, "I have had enough for tonight. Don't stay up toolate. I'll see you in the morning."

He is a great man.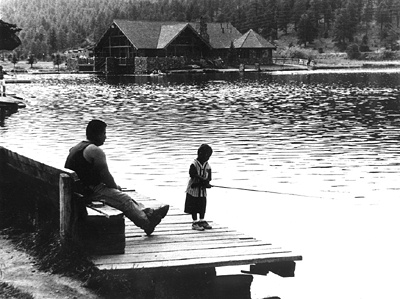 © Ryan P., Greenwood Village, CO