Together They Stood
MAG
I was on a night cruise in New York, pulling under the Brooklyn Bridge, when a surge ofexcitement overwhelmed me. In front of me the New York City skyline was lit up;the Empire State Building and the Chrysler Building were sparkling in themoonlight. My excitement turned to amazement when I caught a glimpse of the twotallest towers I had ever seen. The World Trade Center Towers dominated theskyline and were an unbelievable sight.With a smile I whispered to my sister,"Nothing can compare to this beautiful skyline."

The nextmorning, we decided to walk through downtown Manhattan. I remember hearing mysister yell, "Look, Michael!" I turned to my right and there, acrossthe street, was one of the twin towers. Looking up at the building with the sunbeaming down on my face, I remember saying, "Wow, it looks like the top ofthe building is above the clouds."

From the boat, the towers hadlooked big, but standing directly below them, they were gigantic. That day wevisited the Metropolitan Museum of Art and the Empire State Building, but none ofthese landmarks gave me the feeling that seeing the Twin Towers did.

Ayear ago, those landmarks were taken away. I remember being awoken by my motheron the dreadful morning of September 11. She told me the Pentagon and the TradeCenter Towers had been attacked, and as I watched the planes crashing into thetwin towers and the people running away in horror, I felt a huge sense of sorrowand anger. When I saw those two towers crumble, taking thousands of innocentlives, tears rolled down my astonished face.

It is incredible how for thatmoment I stood in front of those massive towers in awe, and now they are gone. Ipray for the families who lost loved ones and hope that those who are injured maybe healed. I give my heart to the people on those ill-fatedflights.

Though the World Trade Center Towers are gone, I will alwaysremember them lit with pride, just like the night I first saw them.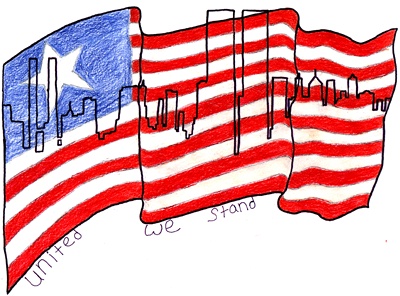 © Casey S., New Lisbon, WI