Colorado Avocados
MAG
Isometimes conjure up the weeks before Colorado,
unable to bear it, you sawyour life had grown fallow,
or rather, it had not grown at all. You burnedhotter than Venus
tearing through our home like a pre-mud season barnfire,
tossing pieces of yourself into a suitcase - the green dress I oncelikened to an avocado.

A summer of planting growing picking selling softgreen avocado.
In one day you quit your job at the newspaper and bought a bitof land in Colorado.
A slice of earth blanketed by jade grasslands and glowingsunsets vivid as carmine.
The promise of your voice carried us far from home.You lied. Fallow
land greeted us with sinister soil, fertile as ash, all thatremains after a barn fire.
We felt as dumb and out of place as fieryVenus

among so many milky white stars, but even Venus
finds her gloryamongst the pages of the astronomy and mythology I read while avocado
farming.The fifth night we worked late; you stopped me to gaze at a barnfire
smoldering in the distance. And we saw our own existence, here inColorado,
threatened by ivory grass precariously rubbing dry limbs together,and on the fallow
land we envision a spark, growing, building, black sootturning under flames of carmine.

Between Public Library shelves I came toread or paint my toenails carmine.
I feigned disappointment, boredom, butevery night I sat beside you under Venus,
her light pouring into the coolglasses of moonshine we sipped or spilled onto fallow
dirt. Mornings driftedbetween silent aisles of tight-lipped books, afternoons of avocado
holdingthem gently, like the rubbery heads of tiny elephants clinging toColorado
vines. And sometimes we waited cross-legged on the porch for anotherbarn fire

to erupt out of the still-water peace of evening. But anotherbarn fire
did not come, and the terrible roar of flames consuming in violentshades of carmine
were not seen or heard again that summer, in our smallcorner of Colorado.
When September's heavy head rolled around, I felt closerto Venus
than I ever had before, I had ripened, like a perfectavocado
Returning home, leaving our farm slightly less fallow.

Summerof Colorado, perhaps you were never so fallow
as we thought. Needing onlyVenus' head, or the flames of a barn fire
burning carmine. To clear the landand fill hungry mouths with the freshness of avocado.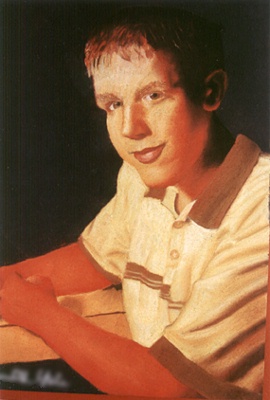 © Meredith S., Kannapolis, NC