Mistakes
MAG
Applications covered the table and decisions flew throughmy mind. I wondered what the future would hold. It's so hard to think of whatlife will be like after high school. My mom solemnly sat there withme.

"Why can't you just stay in New Jersey?" sheasked.

"I told you, Mom. I don't know what I want, but can you pleaserespect the decision I make?"

"Well," she responded asusual, "your sister made the mistake of leaving, and you know whathappened."

I wondered if I would ever not be compared to my sister.My whole life, my parents' decisions for me have been based on her achievementsand mistakes. She's been to three different colleges and still doesn't likeschool.

We sat there on that fall afternoon, the sun shining brightly intothe kitchen, and headaches creeping up on both of us.

"Mom, why can'tyou just understand?"

"Understand what? I know what I'm talkingabout."

"Ugh, that's it. I'm leaving."

"No,you're staying right here. We need to get things done, or nothing will ever besent on time."

College, the thing I was looking forward to, becamethe thing I wanted to think about least. Life as a senior has been a lot harderthan I ever thought. So many choices, but not as many freedoms as I would like. Ijust wish that sometimes I could learn for myself instead of having the path setout for me.

"Well, I'm going to take a walk. I'll be back in abit," I said and stepped outside. A humid breeze whipped through my hair. Ineeded to vent. As I walked down the street, I watched cars pass and listened tothe sounds of kids playing. If only there were a way to know that all I say isactually soaking in instead of being rejected the moment it leaves my mouth. Iknow she only wants the best for me, but so do I. I walked backhome.

"I'm back, Mom. Can we finish looking through the books andfill out some applications?"

"Only if you're going to let metalk to you."

"Mom, it's not that I don't want to talk to you. Ijust want you to understand. Ever since I was little every decision you've madefor me has been based on how you raised Susan. My birthday parties, my sweet 16,getting a car and now the approach to college, there's always acomparison."

"What do you mean?"

"We are twodifferent people, with different lives. We have qualities that are so different,like night and day. I know what is good for me, and I want you to know that if Imake a mistake, it will be part of my life. The only way I will ever learn is todo things for myself."

She sat there as if the world had suddenlystopped.

"I guess you're right. Maybe it is time to let you make yourown decisions, but with my support and guidance."

I was shocked.After years of fighting, it took a moment of speaking from the heart to explainwhat I really wanted her to know. I felt as though I had made an incrediblebreakthrough.

We sat there, cool and calm, as the late afternoon sunpoured through the window. We filled out the forms with ease. Laughs even emergedas we slipped back into our old mother-daughter after-school chattinghabit.

I'm looking forward to what's to come.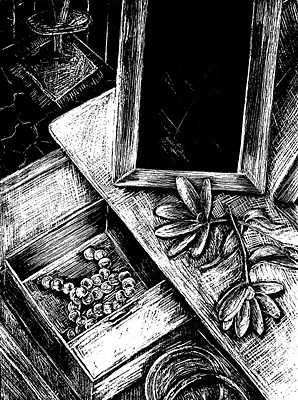 © Elisabeth R., Elmont, NY