Absence
January 22, 2009
"Absence makes the heart grow fonder." When I was three years old, my mother left me with my grandmother in El Salvador so she could go to America. Every day I yearned to see her, but I knew we could always talk on the phone when she had the time to call us. Whenever she called, I would ask her when she would come back to get me. I wanted her to be here with me so I could touch her one more time, feel her arms around my body. I wanted her to be here for me when I cried out for her. I wanted my mommy back. I wanted everybody else to feel jealous of me, just as I was of them at one point. I wanted my mother to be with me and not to leave me again.

When I was younger, I always thought that the reason she had left was because she did not love me. But while I was growing up, I figured out that the main reason was because she wanted me to have a better life. She had found a better job so she could support me and our family. My grandmother and I lived together for six years. In those six years, the only way I could see my mother was through pictures that she sent us whenever she could.
My grandmother and I did not have a house of our own, so we shared one with my uncle's family. Living with them was not the best thing, but I could always play with my cousins. The house was big, but not fancy. In the backyard we had a little chicken farm and my baby cousin Claudia and I would always chase them around. For some reason, I could never chase the chicken because they always ended up chasing me. I would always run to my grandmother, and I knew she was sitting in the rocking chair waiting for me to arrive and sit in her lap. Her words would always comfort me for some reason. I loved living there with my entire family around.
It was a warm, sunny day, with big puffy clouds. The birds were singing beautiful songs and my friends and I were riding our bikes around the neighborhood, when suddenly I heard my grandmother yelling for me to come. I pedaled as fast as I could knowing that the reason she had called was because my mother was on the phone with her. I got there as soon as I could. I started talking to my mother and I was telling her about the chickens and how they never liked me, when she told me the best news I have been waiting to hear all the time she had been gone. She said she was coming home back to El Salvador; I was so happy that I started to cry. I wanted her to be with me the day of my birthday, and that dream was finally coming true. She was the present I had always wanted. The day she arrived, my entire family went to the airport to pick up my mom, step-dad, and my new little brother, Daniel. When they got out of the plane, everyone was extremely happy to see them and so was I. I ran to her and hugged her as hard as I could. I never wanted to let her go. Being back in my mother's embrace was the world to me, even though there were thousands of other people around us; I felt we were the only two people in the entire universe.
I went with her to pick up the luggage and that's when she told me she had a big surprise for me. Up to that day I was an only child, but I heard the giggle coming from my step-dad's arms. I look up and told him to let me see what he was carrying. I was afraid for what I was going to see. One look is all it took for me to realize that he was going to be the person I could trust with anything. He was the chubbiest little boy I had ever seen, yet he was the cutest. I got to carry him for the first time and the whole time he was smiling at me not knowing what was going on. I kissed him and he giggled, which made me giggle too. I knew at that moment that I would do anything for him.
We got to the house just in time for the food to be ready. We could smell the chicken and the rice being cooked in the open fire. The tortillas cooking in the Comal smelled good. My family was waiting for us to arrive. As they saw us, everyone surrounded us and wanted to hug my mother, as selfish as it sounds, I wanted my mother all to myself. I knew everyone was really happy to see her, but I wanted her attention to be on me. We ate all the food my family had cooked. My mother loved the food that she had missed while being away. We enjoyed being with them the rest of the afternoon, laughing and talking about the things that my parents had missed and remembering good old times when they were living in El Salvador. It had been a long day for everyone, especially for me.
While I was getting ready for bed, my grandmother asked if I was happy to see my mom again. I told her I was extremely happy to see her and I hoped that she would never leave me again. For six years, all I wanted, all I dreamed of was for her to come back to me. That wish had finally come true, and for the first time ever I felt like the world was all mine because I had the one thing I had always wanted.
Now nine years later I sit here thinking how much this woman has sacrificed herself just to give me the best she could. This woman worked day and night just to see me grow up like any other girl, and the only I could ever repay her would be becoming someone in life. This woman is my best friend, the one I can always trust with anything, the one that stands by my side and supports me with anything. This woman is my mother, the one I love and will always love with all my heart no matter what happens.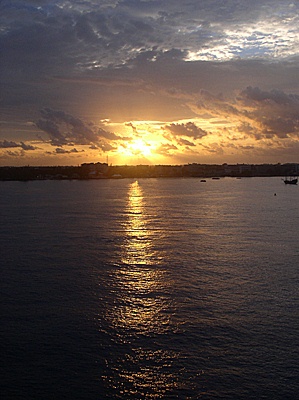 © Rebecca Y., Los Angeles, CA