Love in a Rose
MAG
When I was a child, my mom and dad would send me flowers at school on Valentine's Day.No matter what, every year I would get them and feel really happy knowing someoneloved me. In 1998, my dad passed away. On Valentine's Day I still got flowers,but the card was signed "Love, Mom." It felt odd getting flowers fromonly my mom.

I grew very close to my mom; we were inseparable. She was adiabetic who had to be on renal dialysis, and I never wanted to leave her sidefor fear that something might happen to her. I was scared that her blood sugarwould drop, or that she would fall and I wouldn't be there to help her.

Mymom had to drive herself to her dialysis every other day and I went with her whenI could, since she wasn't supposed to go alone in case her blood pressure, orblood sugar, got low. One day my mom suggested I go to my friend's house becauseI hadn't been out of the house for a long time. She told me that someone wastaking her to dialysis, and I said if they didn't show up, she should callme.

When her friend didn't show up, she drove herself to dialysis becauseshe didn't want to bother me. On her way home she was in a car accident. My momdied two days later at the age of 49.

I went to live with my neighbor,Muriel. I tell people she is my grandma, because she's older and it's hard toexplain the situation.

The next Valentine's Day, I wasn't expecting anyflowers; I hadn't even told Muriel what my parents used to do. As my friendswalked out of the building with their gifts and flowers, one said,"Mechelle, you have flowers in the office." I went to the office,wondering who could have sent me flowers. I grasped the milk-white vase with avelvety red rose in it and read the card. It said, "Happy Valentine's Day.Love, Muriel." I felt loved again as I had with my mom and dad. I realizedthat no matter what happens in your life, someone always loves you on Valentine'sDay.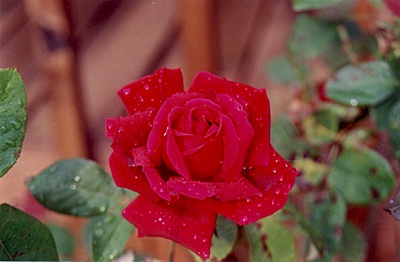 © Jami U., W. Hempstead, NY