My Bus
MAG
January 23, 2009
For the last 11 years, I've ridden the bus to and from school almost every day. Occasionally, my parents would surprise me with a ride that required a seat belt, but the majority of my transportation took place on that yellow tank. Over the years I've had my fair share of opinions about that bus – from love to hate. But like anything you do for two hours every day, it's bound to have some ­effect on you.

In kindergarten and first grade, I was always envious of the children who got to ride home with their parents. It just wasn't fair that they left school earlier, while the rest of us had to wait for the bus at the end of the day. I hated riding the bus since none of my friends did, and my bus was the last one to leave and had the longest route. And it just so happens I was dropped of dead last. My bus was hell.

A year later, my mother started babysitting a few kids from my school as well as being our cub scout leader, so there were boys my age riding the bus a couple of times a week. They were kids I enjoyed. So every day on the bus we either played Pokémon on our Game Boys or debated what games we would play the next day during ­recess. We could talk about how stupid all the girls were without getting in trouble! This was where my bus riding ­experience took a turn for the better. My bus was a clubhouse.

A few years later, most of the big kids had gone on to high school, and there were new students on the bus, but not enough to fill the void. The bus was quiet now, almost silent. I could think without being interrupted, and I liked it. The bus was a place where I could get away from everything – the work I had to do at school and the chores at home. My bus was a sanctuary.

For Christmas one year, I received a CD player. I was one of the first kids in my class to get one, so I was extremely excited. I quickly built up a sizeable CD collection. This music replaced the silence on the bus. Now my bus was a haven where I could sit back and get lost in the music. I could block out everything by simply pressing a button. I could experiment with music genres and find out what my ears preferred. My bus was a music lounge.

Eighth grade was full of rough rides. A friend died and other friends were inflicting pain upon themselves for ­reasons unknown to me. There were many people on my bus who were ­directly involved with my hardships, and there were others who had heard about them and only wished me the best. I could talk to them about what was happening and tell them my feelings. It was one of the only places where the prying ears of teachers and parents couldn't listen. My bus was a support group.

When I first got to high school, I was scared about meeting all those new people. Luckily, half of my eighth grade class was on my bus, so I could be myself; I didn't have to make a good impression on them. We reminisced about good times. This comfort let me ease into a new school sooner than if I had been by myself. My bus was a circle of friends.

Later that year, I became more ­comfortable with the upperclassmen on the bus. Being teenagers, we thought everything we said was hilar­ious and deserved a hearty laugh. ­Horrible sexual innuendos reigned above other humor, and inside jokes that half the bus hadn't heard came in a close second. Everyone was the butt of a joke. My bus was a comedy club.

I am an open-minded person, and I have an opinion on almost everything. I want the world to know what I think. Sadly, I can't exactly speak out whenever I want during school. So the bus is a place where I can do that. Everyone will listen, even if they don't care. I mean, what else do they have to do? Anyone can speak out on the bus, and we're encouraged to do so. I can express myself safely, without fear of ­being judged. My bus is my very own soapbox.

Soon, I will be getting my driver's ­license. I'll be able to transport myself, instead of riding the bus, just like I wanted when I was five. I'll always have the memories I made on that bus. The bus has been good to me and I'll never forget it. I cannot wait to be rid of it, but at the same time I know I'll miss it dearly. My bus will be a long-lost friend.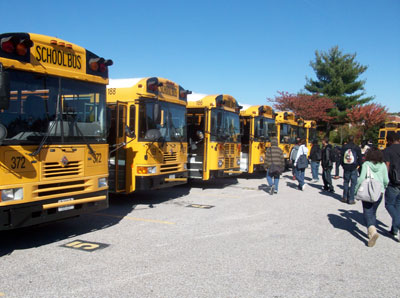 © Cierra W., Odenton, MD