A Phone Call
MAG
I slipped on yet another prom dress in the dressing room.It was the tenth department store and probably the ninetieth dress I had tried onthat day, but I still wasn't satisfied. How could so many dresses make me look sofat?

All I knew was that I wanted to forget the prom all together. What Ididn't know was that I was about to have a much bigger conflict than finding adress to make me look thin.

As I began to unzip the unflattering dress, mycell phone rang.

"Hello," I said as I sat on the smallbench.

It was my best friend, Megan. She was crying and I expected to hearsomething like "Jon broke up with me" or "My parents grounded meand I can't go to prom." For a few seconds I thought those were bigproblems.

"My parents are getting a divorce," she said inbetween sobs. I felt a sudden pain in my chest. It spread to my throat, and whenI opened my mouth, no words came out. She began to cry even harder andlouder.

I sat silently. Those six words echoed in my head as I trieddesperately to think of something comforting to say. I tried equally hard not tocry.

I have known Megan's family for as long as I can remember. They arelike second parents to me. I felt like it was my family falling apart.

There was nothing I could say - absolutely nothing could make her feel better.Right then I found myself wishing Jon had broken up with her, or that she wasgrounded. Compared with this, those were such small problems. Best friends knowwhat to say in those situations. I know what to say in those situations.

Ihung up with tears in my eyes. I stood and looked at myself in the mirror. Thedress wasn't that bad.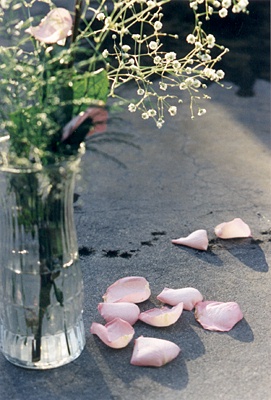 © Mary Amor, Fullerton, CA