Later
MAG


As from an explosion of grief,
it trickled down through the black,
one crackling white line of sobs falling,
hissing and fizzing one long name.
When it landed back on the sidewalk
they came like ants out through the doors and windows
into the soft-shadowy, virgin night.
They kindled the black yellow and made day, holding it over the
land.

It had run down like a pencil line down a blank white wall,
the blind, surrendered hand that holds it,
the dropping fist.
But all the time they were saying:
We will rise up - we have risen.

I think of all the years of stuffing our lungs with martyrs' ashes,
billowing black smoke. Of dragging the long and sour legacy of Jesus' rise; as still it lies heavy over the years as far back as I can see. And of all the holy mandates and of all the cryptic triumphs and of all of what we cling to
as we stumble into the future, forlorn.

They say we're stronger, but I look at my wrist,
meaningless and skinny. Its blood running under the surface
unmandated
like a shadow river. Aren't we all like that? What
can we do?

Today, I'm supposed to be
wearing the three colors that mean
I believe. As I slide between the gray solids,
it's a white t-shirt underneath the midnight-blue
jacket I always wear, red socks
and dirty white shoes. But underneath, I am ashen
for age and still green
for peace. The way I imagine the others might have been.

I imagine this, but they don't want to see we're like the others. A fleeting image of a face reflected in a window or a body swallowed down a flight of subway steps,
they don't want to see
that we are no more strong, that they are no more sacred.

They can't bear to say we stand here no different from what they were, only gray smoke-shadowed, and less.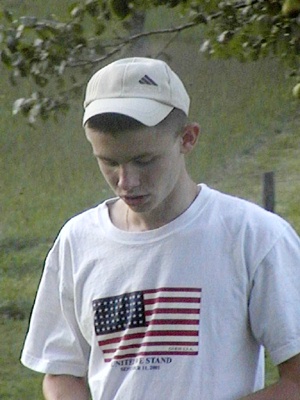 © Artem S., Candler, NC