Reminiscence of Charlie
MAG
I only met him once, but I don't think I'll ever forget him. His name was Charlie, and he was blind, but that didn't stop him from doing anything.

I absolutely couldn't wait to see "Daredevil" when it came out. I'd read reviews and knew that it's about a blind lawyer by day who turns into a super crime fighter at night. Finally, after waiting anxiously all day, it was time for my friend and me to go to the movies.

We got our tickets and as we stood in line for snacks, I spotted a dog out of the corner of my eye. What is a dog doing in a movie theater, I wondered, but then I saw its harness that a man held. He was short and looked about 55 years old. He had a strong chin, and short white hair. He was wearing a long trench coat, which was damp from the snow. He was clinging to the harness. How could he not, since everything he trusted lay in this dog. Anyway, seeing him brought a new question to mind - why would a blind man be in a theater to "see" a movie? I sort of shrugged at the thought, grabbed my Gummi Bears and ran into the theater.

I quickly got lost in the sights and sounds and cool graphics and the two hours passed in the blink of an eye. When it was over, my friend and I waited outside for our ride. Then I noticed the blind man again, so I walked over and sat down next to him.

We talked for a while about what a cool dog he had, and how the dog guides him around, until finally I asked him about the movie. He began to describe the sounds he'd heard, and the excitement he'd felt as he pictured what he thought was going on, not caring if it matched what was actually happening. From the excitement in his voice, I could tell he had enjoyed it a lot, even more than I had. Then he told me that in his 50 years of being blind, he had forgotten how enjoyable the movies could be. I began to feel sad for him, but he told me not to because a lot of people have it worse. I couldn't believe what I was hearing. He sounded as though his blindness were a gift.

Then he continued talking about the movie, describing each scene as he heard and pictured it. What he saw in his mind's eye sounded much better than the movie I had actually seen. I smiled and listened as he sat there talking and laughing. When I started to leave, he grabbed my hand. "I'm Charlie," he said with a smile. I told him my name and we shook hands.

The man I met that day was unlike any other. He was an unusual example of that group of people who looks at the glass as half full. I found it ironic that the first movie he went to after losing his sight 50 years before was about a blind man who used his gifts to fight the wrongdoings of humanity. In a way, Charlie does that too, because I'm sure he touches everyone he meets in a special way. Thanks to Charlie, I learned to look past outer appearances and notice the smiling character inside.

I truly believe I was talking to an angel that day, and even though I may never see him again, for me Charlie will always be sitting on the bench in a lobby, waiting to leave his impression on someone who needs a little lesson on why not to judge people.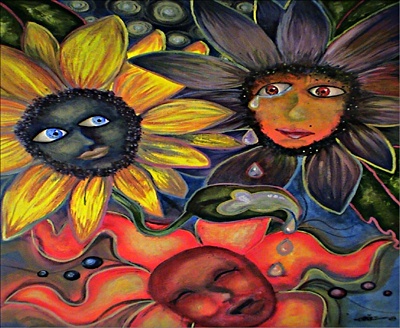 © Christine W., Davis, CA