Orange Clarity
MAG
hWen someone asks me how I dealt with living in a motel room while my mother grieved over her failed marriage and the loss of our home, I reply, "The Oscar Mayer weenie mobile parked outside our room." Since my discovery of the elongated orange vehicle which brings peace, joy and hot dogs to the far reaches of America, I have pondered why its appearance outside our motel room had such an impact on us.

In the months before we saw that ludicrous four-wheeled frankfurter, my family, which had teetered on the verge of collapse, came crashing down. Six months earlier, my father moved to San Antonio "on business," but his deal soon became less about business than expected. As his visits to do laundry and pay bills decreased, my mother and I realized he was not coming back. We sold my beautiful horse, Lucky, to try to keep our house, but the need for a smaller one soon became apparent. Two weeks after the realtor posted the "For Sale" sign, she ran a stamp across it saying "Under Contract" and my mother and I packed and left.

As I walked into my holding pen for the next four weeks, a small set of rooms with one bed, no computer and a toaster oven for a kitchen, the situation had not yet become laughable. Still grieving over the loss of my dad and Lucky, the remaining members of the family - the dog, the cat, my mom and I - plunged into our new setting with saddened minds but hopeful hearts.

The first two weeks passed without incident. Teachers were patient when I explained why papers were not typed, and all four of us managed to coexist in our cramped surroundings. However, during the second week, my sweet cat, Sasha, decided she was tired of the fortress and slipped out of sight. Her loss led to my only outburst of tears and anger since my family had begun to unravel. I became enraged with my father, impatient with my mother, furious at my cat for leaving, and livid with my friends who did not understand the degree of my forced isolation.

When I realized Sasha had disappeared, I went outside to take a few breaths of fresh air, and there sat the largest Oscar Mayer logo I had ever seen, written on the side of a gigantic orange hot dog on wheels. And I laughed so loud that my mother heard me and came running outside. She stood in stunned silence at the sight of the weenie mobile, and we laughed so hard we cried.

I cherish our shared memory, a home with three broken pieces, standing in the parking lot of the Residence Inn, fulfilling the only need greater than the need to cry - the need to laugh. This bizarre orange advertisement caused a moment of clarity for us. With the laughter, Mom and I began to cope with our situation instead of lamenting it. That weenie mobile kept our spirits up, and we looked ahead to a fresh start.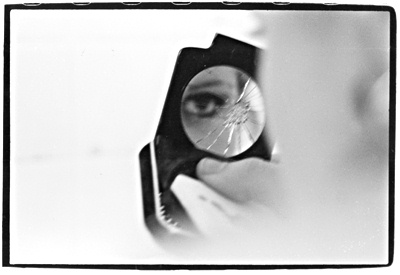 © Heather W., No., Brunswick, NJ