Homesick
MAG
I remember sitting on my back porch back home, looking over the rich, green fields down into the deep hardwoods, watching time go by. Here in town my green fields have been traded for dirty asphalt, while brick buildings and light poles have replaced the trees. There's never enough time; people are always rushing everywhere they go.

I used to sit and watch deer graze; I smiled as the squirrels squabbled over corn from the bird feeder. Now, all I have are a few birds, some squirrels, and two snowmen my young neighbor built. These days, instead of always being in the middle of it, I have to hit the road to be in the country.

Oh, I want to go back to the foothills of the Blue Ridge where my friends are. We had our pickin' parties out in the barn late at night, or dancing on Saturday. For now, I'm lonely, that's for sure.

My fondest memories are of warm Southern evenings spent with family. We talked about a little bit of everything. I miss having my girl sitting close as we drove down those long, dusty roads. It's those little things I took for granted that I miss most.

I'll get used to this new lifestyle. But I will never forget where my home is. Back where things are slower, and people always welcome you into their homes and hearts. That's just a small picture of what I miss: my home, deep in the heart of Dixie.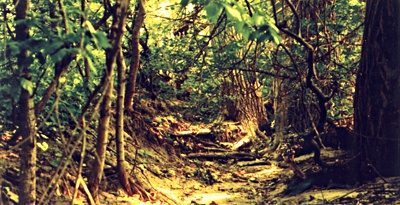 © Dan B., Papillion, NE