Not 5, But 8
MAG
These days, whenever you apply for a job or fill out important documents, a set of questions awaits you. In my 15 years I've been asked a lifetime of questions, mostly about me and my background.

No other question puzzles me more than "How many members are in your family?" Are they asking about my immediate family or my whole kin? When I was younger, I always replied, "eight" - my parents, two younger brothers, Chila (my nickname for Aunt Cecilia), Welita and Welito (my Spanish slang for grandmother and grandfather). They are all on my dad's side of the family.

Usually, the adult asking would correct me, saying, "Your grandparents and aunt are not part of your immediate family. They are just your relatives." Just my relatives? What exactly does that mean? That they don't love me? Or I'm not supposed to love them like my parents? Are they just people who live with me? I didn't pay attention to those unknowing adults. They hadn't met my family, so how could they say who was part of my family and who wasn't?

When it comes time to explain my family to my peers, however, I can't shake this frustration as easily. First of all, their mouths drop at the thought of living with seven people. Their expressions of astonishment then turn to snickers when I explain that this includes my grandparents and aunt. "They don't count" is always their reply. After a few years of repetition, I have given up trying to explain.

I cringe when someone asks this question that confuses me so much. Whenever I filled out forms, I had to remind myself that my dear Chila, Welita and Welito were "just relatives," people who were just related to me and no more. And so my reply went from "eight" to "five."

Of course, I never felt that they were "just relatives." They were more. They loved me and I loved them. Whenever Dad was at work or Mom was busy, Chila was there. When I needed comfort, Welita and Welito never turned me down. There was no doubt in my mind that they were, and are, part of my true family. Even today it is easy for me to see that parents and siblings are not the whole picture when defining my immediate family. When a friend's parents recently separated, she told me that she had grown independent of her father. She lived most of her teenage life without him and no longer viewed him as a real father figure. Is that how you are supposed to feel about people in your immediate family?

Another example is my mother. Her father left her with my grandmother when she was small. To this day, she knows little about her "other" family and doesn't want to. Her stepfather, half-sisters, and half-brother mean more to her than her own father ever will.

Reflecting on these examples, I am grateful that I have my family. They show that grandparents, aunts, uncles, cousins and even friends can be members of your immediate family. As for me, I know who my family is. I know that I will never forget Chila, Welita or Welito. Unlike other kids, my aunt was never just my dad's sister and my grandparents were never just people I could go to when my parents said no. They raised me, loved me and helped support me. Pieces of their personalities shine through me. They have always been (and always will be) a part of me. As for my reply in the future? Despite what others think about immediate, I will proudly state "Not five, but eight!"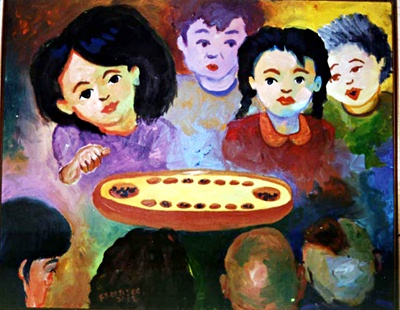 © Fransisca A., Surabaya, Indonesia