My Education in Cake Baking
MAG
School had been out for two weeks and I had spent my first free days after freshman year sleeping late, talking on the phone and watching soap operas. I was too old for summer camp and too young to drive a car.

My parents, who both work full-time, insisted that I look for a job to keep me busy. So, my mother and I went to several businesses to find out if they were hiring. With no experience, I relied on my ability to convince them that I was a quick learner and willing to do whatever the job required. I filled out applications at a coffee shop, a toy store, a florist, a supermarket and a fast-food restaurant. I was discouraged to hear repeatedly "We'll get back to you" and "Maybe we'll call you in the fall."

The image of a long summer stuck in a house with no air conditioning and nothing to do kept popping in my head. Then my father suggested I apply at a bakery called Konditor Meister, owned by Gunther Moesinger and his wife, Rebecca. My mother drove me there during her lunch hour. The woman behind the counter called for Gunther and seconds later, a tall, curly-haired man with a round belly and strong German accent came from the kitchen.

"Hello, I'm Gunther, I'm the owner. Very nice to meet you," he said, shaking both our hands. We asked if he was hiring for the summer and he replied he always needed help, especially on the weekends.

To my surprise, he handed me a hat with "Konditor Meister" embroidered on the front and told me to come back Saturday morning at eight. That summer I began my education as a baker.

Then sophomore year came and went and it was once again summer. I had been working at the bakery weekends and during the holiday season. That September, Konditor Meister had been voted number one on NBC's "Today Show" for the best wedding cake in the country! The publicity was creating lots of new business. I called to offer my services and they asked me to work from nine to five, four days a week and half days on Sundays.

I was there to help Lynne, the head decorator, as well as to wait on customers out front and answer the phone. I spent the whole day on my feet, sitting only for lunch. Day after day, I stood at a table making leaves out of white chocolate, dyed green, used to decorate wedding cakes. Halfway through the summer I could make 900 leaves a day with no trouble.

Although it was a German bakery, the air was filled with the sounds of Spanish. Next to me in the kitchen worked a dozen Latin Americans making cakes and pastries, dipping strawberries, and doing anything else necessary. I grew to appreciate how hard they worked to support their families and communicated with them as best I could, even though my Spanish was pretty poor. One woman loved to tease me by throwing sliced fruit at me or cracking jokes in Spanish that she knew I could not understand.

I realize how hard Gunther works to be successful. He was there seven days a week, starting every morning at four and sometimes staying until seven or eight at night. I was amazed at how he could work that much and still have such an excellent sense of humor and a smile at the end of the day.

My experience at the bakery made me realize the value of hard work. I have learned that success does not come from a fancy education or a rich background, but rather from a strong work ethic and a whole lot of determination. It is not important where you come from or who your friends are when it comes to success - having a goal and what you do to achieve it is what counts. Even though I continue to work at the bakery, it is not where I want my future to be. My employment there, however, has taught me a work ethic that will stick with me in whatever career I pursue.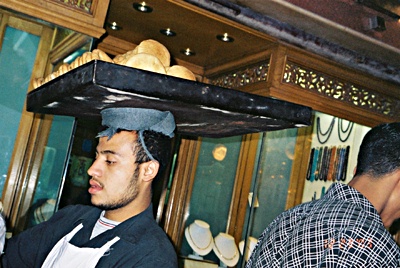 © Sarah M., Doha, Qatar