Revelation at the Lunch Table
MAG
For a few seconds I put my head down and relax the tension in my shoulders. Maybe I'll forget the test I failed or the college I didn't get into. The scent of mashed potatoes and peanut butter sandwiches fight through the lunch ladies' disinfectant. Sing me something sweeter than the old tunes I hear every day. Semi-clean is good enough for me as I rest my head on the table. I try to ignore the chewed conversation bits of my "friends" as they mercilessly dissect every girl who passes. God, we're so pathetic. But it's okay. We justify our judgment as we talk in lowered whispers and hide our evil smirks beneath our pointing painted fingernails. Too cool.

"What's wrong?" they ask. They pretend to care, but don't even shift their gaze toward me. They're thinking, I wish she would leave so we could talk about how she's acting. I want to say: "You are what's wrong! You controlling, back-talking, binge-drinking, clique-oriented, too-good-for-anyone-but-me, the epitome-of-cool, poor-excuse-for-a-person." But I don't. Because that wouldn't be nice. Nice is the fake smile I flash when I respond, "Nothing."

My hate consumes my stomach, replacing the food I haven't eaten because I think, I'm too fat. "You're beautiful," he says. But how can I believe that when my prom dress is bigger than hers?

That doesn't matter at today's lunch. Today she starts her new diet, and the other one tells us of the awesome weekend she doesn't remember, and the other denies doing that ... with him. What matters is how many times we can make a girl cry and how far our previous "friend" has moved away from us. "Oh my god ... She's so gay ..." SHUT UP! I'm screaming in my head.

But I do get a kick when you rattle off big-name colleges. It's going to take more than bad grades and low SAT scores to get into that one. Maybe your daddy can pull some more strings. Shut up already. Go drink and drive. Because it won't happen to you, will it? Yeah, you'll be real cool at your funeral.

I was kicked out of your club. The day I stopped drinking and looking like an idiot was the day I became a loser. I'm sorry I didn't get taken home in cop cars. Sorry I don't want lung cancer or dead brain cells. Sorry, I'm too smart to be your friend.

It's not like I don't miss the drama and the hangovers and the trips where I think I'm going to die. It's not like I think I'm better or cooler than you. I mean, I enjoy drunken fights and hanging out in Wendy's parking lot as much as the next cool person.

I've just come to prefer the smell of disinfectant to your petty lunchtime gossip. It's my lullaby that saves me from the everyday hell that is this school and its closed-minded favoritism. It keeps me from crying out every word I'm thinking. It saves you from my eternal hate you will never know. Because I had braces and my smile is too pretty.

Thank God for disinfectant ... for your sake. The plastic table is my pillow that keeps me from believing your stories. They number as many as the empty beer cans in the back of your car. All I feel right now is the disinfectant saving me from insanity and the pity that I have for all of you. It is this pity and only this pity that keeps me from falling into your favor. God forbid I ever be like you. Because then I would have to hate someone like me.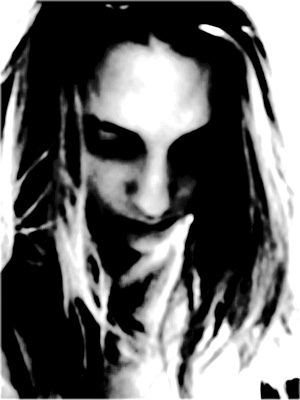 © Maria B., Boston, MA