My Brother
MAG
My brother Chris was always a clown. He was the one to cheer everyone up when they were having a bad day. He was always the peacekeeper in our house, too. If anyone was fighting, he'd be the one to talk to, to blow off smoke. And, of course, he'd give his input, which always helped. He and I used to watch TV commercials and make fun of the cheesy ones. There was one we especially liked for a mattress. There were so many fake actors in it that we had to laugh every time we saw it.

Not only was he my older brother whom I looked up to and laughed at TV commercials with, he was my best friend. He was, and still is, the only friend that I can really trust. But our friendship was put on hold last January. My only brother, my only real friend, embarked on a journey that would change his life.

Chris decided to join the Navy after doing a lot of research on boot camp, A-School, and every nook and cranny of what it was about. He was so excited he could hardly wait, but was also dreading it because he knew he would be leaving his friends, his family and his girlfriend, but he made the best of it.

During the months before he left, we got even closer, going to lunch, running errands, going swimming and to the movies. Last September he took me to X-Fest with his friends as a late birthday present. That concert was probably the most fun experience we had. In the fall, we went to a bunch of haunted houses and trails and watched scary movies, including "The Texas Chainsaw Massacre," that truly freaked us out.

My mom decided to throw a surprise going-away party for Chris. On the day of the party, his friend picked him up and Chris thought he was just going to the park to play Frisbee. He was so surprised when he came in and saw all the balloons, food, family and friends from high school. He was really happy that everyone had come to see him before he left.

During Christmas, we loved to drive around and look at all the Christmas lights, rating every house. This time of the year was difficult for my family because we knew it would be his last Christmas with us for a while. Everyone made the best of it though, and we had a pretty decent holiday.

Around this time, I was fighting depression. I had some pretty bad times, but Chris was there to dry my tears and make me laugh. Once when I was having a particularly bad day, he told me something I'll never forget. He said I was his best friend and he loved our relationship. I told him the same, of course. I've always thought of him as my best friend, but I never realized he felt the same way. I knew he loved me and liked hanging out with me, but actually hearing it made a difference.

Last January 26th came faster than it should have. My mom, my two sisters, his girlfriend and I went to the base where he would be sworn into the Navy. It was in a small room with wooden walls and red carpet and all the military flags hanging in the front on a small stage. When I saw him standing straight and shouting "Yes, Sir!" at the officer I couldn't help but cry. I had never been so proud of anyone in my life. After the ceremony we took photos of him with the officer and all of us.

Too soon, it was time for him to leave for the airport. We said our painful good-byes and watched him get on the bus. He waved from the window, and then he was gone. He still writes everyone and calls when he can. In each letter I write, I'm sure to tell him how much I love and miss him. And I'm always quick to tell him how proud I am of him. I thank him for being my best friend; the only true friend that I have and always will have.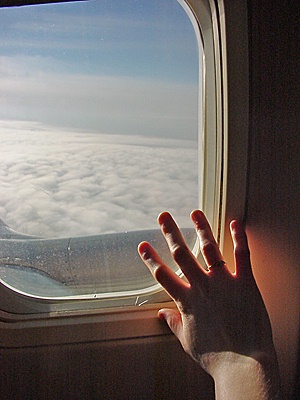 © Greg K., New Lenox, IL