My Birthday
MAG
September 11, 2001 is a day that will be remembered throughout the world for the lives that were lost and for the heroes who tried to save lives. I will remember it especially well because September 11 is my birthday.

To tell the truth, I didn't really know what the Twin Towers were before that day. I had heard some rumors at school - "The World Trade Center fell down!" and "The Trade Center exploded!" - but our school tried to refrain from talking to us about the tragedy. I was really uncertain what to think.

After school my mother picked me up and we drove to the DMV to get my driver's permit. I had been there many times with my parents when they got their licenses, and every time it had been packed. That was not the case that day, however. When I walked in I was the only customer there. I quickly had my eyes examined, filled out the paperwork and took the test. I got my permit and went on my way.

On the way home, we saw that many usually busy shops had either closed or had no business. There were even some stores that were supposed to be open 24 hours a day that were closed. It wasn't until then that I realized how big a tragedy this was.

When we got home, I ran inside and turned on the TV. Every channel had coverage of the tragedy, and I began watching the footage for the first time. It was the most horrific thing I had ever seen. The sight of people jumping to their deaths after realizing their doom was horrible. I had never seen anything like this, and while I wanted to do something about it, I couldn't think of anything.

Four years later, I think about that day and remember every detail like it was yesterday. I don't think that day will be forgotten by anyone for the rest of their lives.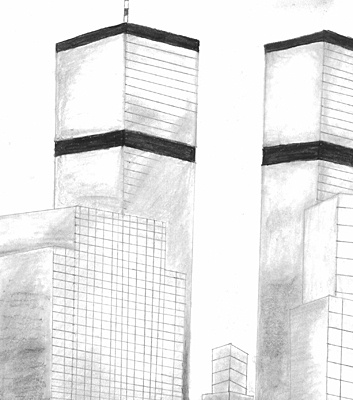 © Krisa S., Omar, WV