Ice Cream With My Uncle D.
January 21, 2009
My Uncle Daniel shared his Native American culture and wisdom with everyone he met. I grew up with him as my father figure, my mother figure, my friend, my mentor, my everything. Although he was a very heavy-set man, he never let his weight get in the way of his tasks for the day. Whether it consisted of looking after the house, or building a fence, he always offered help where he could. His salt and pepper hair, always long, would be tied in a ponytail. His exterior was fierce and hard, scaring off those who never took time to know him. But his green eyes often betrayed him, showing his heart that was much too big for even a man of his size.

My uncle worked himself nearly to death. It was not until he was fully incapable of working that he finally learned to relax. He was diagnosed with type 2 diabetes as a young man, and took good care of himself. But at the age of fifty, he learned that his kidneys were failing. He went to dialysis treatments three times a week for three years. After three years, doctors said there they were not sure they could help my uncle in any other way. He stopped treatments immediately because he did not want to spend the rest of his life stuck to a machine.

In the last year of my uncle's life, he and I spent as much time together as possible. We played board games, watched movies, and he would tell me stories about his life. He told me about his Native American ceremonies, and the way of his people. He wanted me to know about my heritage.

The last weeks with my uncle were definitely the most memorable. He opened up completely to me, and let me know the real him.

Anyone who knew my uncle knew how much he loved his family. He was constantly trying to show his love in different ways. Whether it was offering advice, or lending an ear, my uncle always knew exactly what needed to be done. I went to my uncle many times when life became overwhelming. Although I was only in middle school at the time, I knew I maintained a higher maturity level than many of my peers. I was simply forced to grow up faster than they did. My uncle understood this, so he always tried to find ways to make my life a little less stressful. He would take me out for ice cream at least once a week.

As we sat and ate our ice cream, my uncle would let me tell him everything about my week. From boys to my period of depression, he heard about it all. "But I don't know what to do. I love God, but my friends don't understand why. When I try to explain it to them, they just laugh at me. I can't take it anymore. I just wish I could explain why. I mean, you aren't Christian, but you understand about belief. Why can't they see what you do?"

"Quinn, not everyone is like me. They're young, and they'll learn. Don't let their opinion of your beliefs affect why you believe. You know in your heart that God exists. I know he exists, but we just call him by a different name. We call him Grandfather, but I believe just the same as you do. Don't be frustrated with your friends; they just aren't on the same level with you yet." I knew, sitting there eating my rainbow sherbet, that he was right. I knew I would take those words to heart, and keep them with me always. My uncle was always telling me what I needed to hear. He overflowed with wisdom. I always felt that just being near him would make me wiser. My uncle constantly asked about my goals and my dreams. I never knew why he seemed so
interested in what I wanted to do with my life. I assumed he was simply asking to be curious, but now, looking back, I know he wanted me to think about them, and really focus on what I wanted because he knew he would not be around to push me towards those goals forever. He was my motivation when I did not want to keep going towards my goals. My uncle never wanted me to take life for granted because he knows what it is like to have life cut short.

The day of my uncle's funeral, I sat by his gave site and cried. I remembered all the time we shared and the wisdom he had given me throughout the years. The longer I sat there though, the closer I felt to him. I could feel him there beside me, holding me tight in his big strong arms, just as he had done since the day I was born. I was always his baby girl, and he knew I would need more comfort. When I left the cemetery with my parents, I felt like I was leaving him. I knew he would want me to live life, but I couldn't help but be angry. I spent weeks sulking and turning my back to friends who just wanted to be there for me.

It wasn't until nearly a month later that I came out of my isolation. I was going through some of my uncle's belongings that had been with him in the hospital just a few days before he passed away. I pulled out his reading glasses, his hearing aid, and his book of crossword puzzles. I flipped through the book and saw a page torn out. When I looked closer, I noticed a folded piece of paper in the back with my name on it. I opened it, and saw his messy penmanship. The words he wrote to me were on the back of a crossword puzzle, in all the space he could find. The margins were filled, and it was hard to read, but I knew I needed to take in the words meant for me. I took a deep breath and read.

"Quinn-

I know that you won't understand this now, so I will let you find this note in your own time. Remember our conversations, remember our laughs, remember the words I had for you, because you will need it all to get through your next years. Do not be angry or sad, because I have not left you. I am waiting for you, and saving this spot with Grandfather. Quinn, I'm with your God today. When you read this, I will not be in pain, and I will be smiling. When you think that life is overwhelming, talk to me, and I'll be there to guide you. Just watch for me.


I love you, Uncle D."


At first, I didn't believe I would be able to get through the next week, let alone the two years I've gone through since he passed away. I still have this note to lift me up when I miss my uncle. But like he told me to, I talk to him a lot. When life is too much to handle, I take a walk, or go for ice cream and he gives me a sign. It's usually a feather on the ground, or just a beautiful day, but I know my uncle is looking out for me, and his wisdom will always remain in my heart.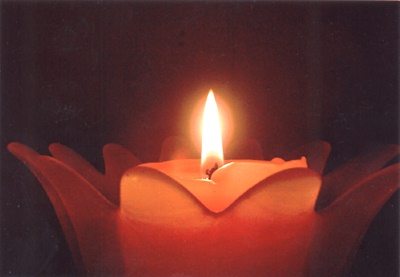 © Sayda C., No. Bergen, NJ