Letting Her Go
January 13, 2009
The baby blue walls had "empty" painted all over them. The carpet, buried for years with clothes, was visible. The des had cleared itself of dust and old makeup that had thrived there for so long. The bed was made, and the magazines, once littering the nightstand, sat in a neat pile on the floor. Nothing even hinted that someone or something had lived there less than twenty-four hours ago.

I paused for a moment and looked at the bittersweet scene. Actually, I thought it seemed mostly bitter. I couldn't believe that this morning she had been sleeping in that bed. I couldn't believe that a week ago, this room screamed Megan. I couldn't believe that she was actually gone. She was my best friend, my big sister. I always knew that I couldn't keep her forever, but I hadn't known that this day would come so soon. I sighed and yelled, "Come on!" to my little sister. She skipped in sporting her Indiana University T-shirt. She had worn this shirt every day for the last two weeks. I think she would have started a religion completely devoted to Indiana if she could, just for rescuing her from our sister. She dumped a pile of clothes on the bed. I stood in shock. Are we already forgetting her? Are we already taking over her room? She came back with more clothes and other various possessions. My fears were confirmed.

After the invasion of that dull bedroom, I sat in my room. The room that I thought I would be so happy to have to myself. But it felt empty. The room I was sitting in didn't feel like the same room I had wished to have to myself for so long. The phone snapped me out of my reverie.
"Hello?"
"Hi, may I please speak to Megan?"
"Yea just a sec-I mean, no. she's not here."
"Do you know when she'll be back?"
"Um…Thanksgiving."

That's when it hit me. The heart-wrenching pain of losing someone I loved overcame me. Thanksgiving wasn't for two and a half more months. How could I ever live without her for that long? We did everything together. Then the worst came. I started remembering everything we had done together: The time I was stuck at a horrible birthday party in 6th grade, and she left her party to come pick me up. Every time she calmed me down after a fight with my parents. Every time she helped me study, or took me to the mall. Every time she stayed home on a Friday night to watch a movie with me. Every time she took her little sister out to McDonalds. They all came back to me with a pain so overwhelming, that each heartbeat felt like my heart was being ripped out of my body and torn up into a million little pieces.


That night, lingering between sleep and consciousness, I felt warm breath on my neck. I looked over to see my little sister crawl into my bed. That night, we cried in each other's arms.

The next day, everything I did reminded me, in some way, of Megan. When I watched a TV show, I remembered that we had watched it together. When I listened to the radio, I remembered that she had hated this song, and we fought about it in her car. When I ate my lunch, I thought about the time when I was sick on my birthday, and she made me breakfast in bed. I remembered the time she gave me her favorite Barbie for Christmas. When I looked in my closet, I remembered the time she stole that shirt, or that belt. It was the little things that made me miss her so much. I thought about her all day every day for a long time. I cried myself to sleep for a week. After that, It got easier. Everything was so different, but I got used to having four people at the dinner table. I go used to emailing, and I got used to begging my mom for rides everywhere. It wasn't easy, but I learned how to let her go.

During those almost sleepless nights, I thought about our relationship. We were more than friends. We had no secrets. We were sisters. There was nothing else to it. And then I knew that there would always be an unbreakable bond between us, not matter where we ended up, no matter what we did, no matter how far away we were. She always had been, and always would be, my big sister.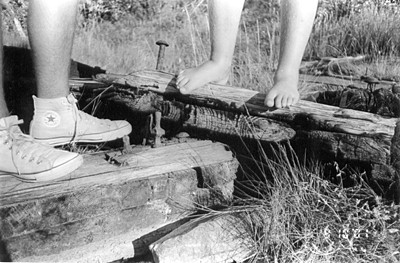 © Sarah R., Marblehead, MA