For Theater
MAG
"I'm back!" Josh cried gleefully as the mirror revealed his made-up face. The person sitting next to me was no longer my friend but Manolo Costazuela of Neil Simon's "The Odd Couple: Female Version." Theater is the only place where guys love to wear makeup, I thought, stepping back to evaluate the eyeshadow I had applied to his eyes.

It is now two weeks since our play closed. Looking back at the pre-show excitement, I understand why Josh defined himself with stage makeup. For me, on stage is where I feel my world is perfectly balanced and as it should be. My first performance for an audience was in ninth grade when my friend and I played Things 1 and 2 in a Dr. Seuss play. Seconds before I bolted on stage, I was so nervous I thought I was going to have an accident but afterward, I couldn't wait to be in the spotlight again.

I have done three shows since then and realize that theater is much more than a group of people memorizing lines and putting on a show. It is a journey of working hard as a team to achieve a common goal: to entertain the audience with a stellar performance. The best reward is a positive reaction from the audience. Their laughter energizes me more than caffeine ever could.

Although taking the leap of faith in myself and co-actors can be terrifying, it is gratifying to face my fear. Another invaluable aspect is the relationships that are formed. While we are hammering together the walls of a set, we are building the bonds of friendships that are as unique as the characters we portray.

Theater has been my most valuable experience. This is where I learn to trust myself and others which leads to exhilaration. In the end, when the spotlights have cooled and the makeup has been washed off, I am thankful I will have the experiences engraved in my memory.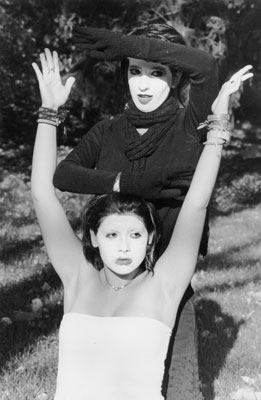 © Camila E., Bethesda, MD