One of Those Girls
MAG
I'm one of those girls. Maybe you know the girls I'm talking about. It's possible that you've been one of them; maybe you're that girl right now. If you have no idea what I'm talking about, believe me, it's better that way.

I'm talking about the girl who is best friends with the boy of her dreams and he doesn't even know. There are many more of us than you think. We've watched him with every one of his girlfriends and he's never given us a second thought as far as relationships are concerned.

We've consoled him after the painful breakup, as he cries that he wishes he could find a girl who would make him happy. He comes to us to talk about how he's looking for that one nice girl who won't cheat on him. Well, if that's what he really wanted, he would have come to the right place. But maybe subconsciously, that's not what he wanted at all. He wants the pretty girl, whether she's nice or not. He sees something in her that he never sees in us, something we don't even have. And it makes us wonder, is it because we're not skinny enough? Not pretty enough? Not quiet enough? Is that why he doesn't want us? What can we do to make him want us?

We've tried a million ways to be more appealing but it seems that nothing works. We've cut our hair, we've dieted, we've put on so much makeup we can barely hold up our heads. We've tried everything in our power to be the girl of his dreams. But nothing works. We're one of those girls who try a little too hard to be everything he seems to want. We're the girls who never realized that trying too hard doesn't really do anything. We're just the simple, nice girls who like him for who he is, not because he's in a band, has a car, or is friends with the kids we're trying to hang out with.

We're the girls he's overlooked because we're not the prettiest or the most popular. He's overlooked us because he thinks of us as his sisters, and nothing more. We're the girls who give him rides to school, whose lockers are next to his, who sit at his lunch table, who sit in front of him at church. And he's never given us a second glance.

We're the girls who like boys for who they are, not what they are. And there are more of us than you think. Many more.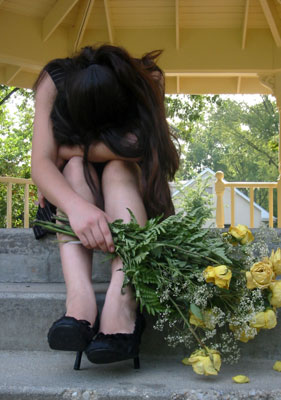 © Martha V., Morton Grove, IL