In the Presence of Their Absence
MAG
The first time I had seen them, I was nine years old. They didn't mean anything to me at that point. They were simply two tall towers. We took a tour. There were a lot of business people in suits carrying briefcases. There were no toy souvenirs worth buying. The only exciting thing I remember is it was the first place I ever had Dippin' Dots Ice Cream, but I don't even remember what flavor I had.

But now, with the sixth year anniversary of their falling, I stand a few hundred yards from where I enjoyed that ice cream, a few hundred stories lower and the buildings are no longer there. Now, instead of a tour of two tall office buildings, the tour is of a memorial created by the victims' families. There are charred remains of firefighter equipment, utensils from the restaurants in the towers, cell phones, high heels, and other personal items that belonged to those who were inside. Along the walls are quotes from friends and families of the victims. One whole wall is dedicated to photos and fliers of the missing.

The exhibit continues downstairs. There is a small room covered in notes posted by people. As I read, I realize their diversity. Some are written by young children, too young to write more than "I Love You" and draw a picture of two towers and planes. Others are reminiscences from just after the event. A few are by people my age writing about when they found out that their dad or mom would not return. But I was not able to read all of them. I could only read those in English and barely decipher some of those in Spanish; however, there are also those in forms of Arabic, Asian Calligraphy, and other languages I couldn't even identify.

Although for the most part these messages were the same. Some expressed an emotion, mostly love or grief for someone no longer here. Another large group wrote how this event affected the world, and how we should all seek peace.

Once back outside, I looked out at the space where two tall towers stood only six years ago. I could see dirt, dusty dirt, and there were some cranes and other construction machinery. Construction was a topic of great controversy this time five years ago. I watched the still cranes, for it was a Sunday and all was calm, and I thought of the notes on the walls.

Did this event really affect the world? I think it might have; not just through our nation's invasion of Iraq, not just the heightened awareness and precautions now taken to prevent acts of terrorism, but because of how it affected people emotionally. I didn't know anyone who worked in the towers, the only person I knew who lived in New York was in New Jersey. My mother and father both came home to me that day, but I still felt the impact of grief upon my heart when I looked at the emptiness before me. And not only did it affect Americans since New York City is the world's capital of commerce, there were people of every ethnicity inside those buildings. Therefore, the same effect the tragic event had upon my heart was probably spread throughout the world.

When standing in the presence of their absence would you feel the same as I?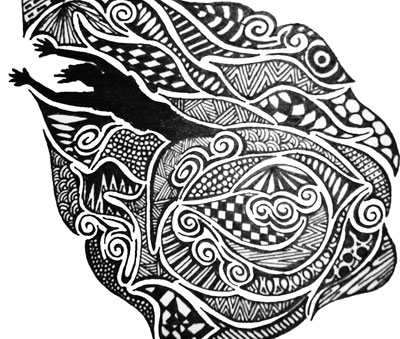 © Caroline B., Haworth, NJ