Piano Man
MAG
When I was five years old, I would frequently spend time at my grandparents' house where they had a very old, but still usable, piano. I would sit for hours and hours, trying to figure out how to make the instrument work and play my favorite songs. I remember sitting there playing middle C over and over again, singing the melody of a song. I really thought that I was making music, and I took pride in my "work."

My grandfather noticed my interest and struggles and helped me play the melodies of popular songs, one-handed, including "Somewhere Over the Rainbow." I loved playing pieces with him and hearing the sound of the beautiful piano.

My grandmother enrolled me in piano lessons at a music academy the summer after first grade. My grandfather and other family members thought I was just going through a phase and would quit in a matter of months. I admit that I was apprehensive at first, but I willingly attended and enjoyed lessons. Fortunately, I made myself a promise to learn to play the piano after my very first lesson - a promise I have never broken.

Now, as I celebrate my tenth year of lessons, I find myself as excited as I was the first time I played. Over the years, the piano has brought so much joy and so many opportunities to my life. I have participated in recitals, accompanied performers and orchestras, and have recently performed in a 24 piano ensemble.

Music is something that connects all people. I have learned to play different genres, including jazz, classical, African, modern, and folk, which prove that music is a truly cultural and global gift. I am so thankful to be a part of it.

The pressures of school are constantly are upon me. But with piano and music, my life becomes balanced. I experience harmony. Perhaps it is corny, but in

music I have truly found my passion, my cornerstone, my niche.

In college, I hope to double major in music and pre-med, combining two of my lifelong dreams. Someday I hope to teach piano so that I may help others learn about the joy that music can create.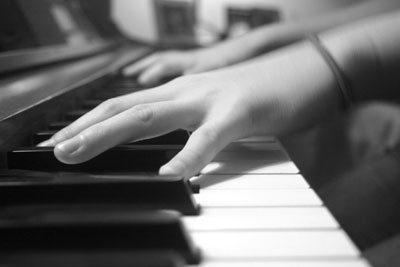 © Elizabeth S., Newton, MA