Zipline
MAG
I slid my legs into the straps. This wasn't going to be so hard. It was only a zipline, after all. The spiraling metal staircase carried me up. Suddenly I was 10 feet above solid ground. A breeze rustled the trees, shaking the flimsy staircase. I gripped the railing with slippery hands and imagined the stairs toppling as the breeze drifted gently.

I told myself I had to go back, even if it meant making a fool of myself in front of all these people. But my legs refused to listen, continuing to climb steadily. Why on earth was I doing this? I hated heights.

Finally I reached the platform and peeked over the edge. That was my first mistake. I reeled back. No! I thought frantically, dizziness blurring my vision. Don't look down! Look up. Always up.

Another breeze caught the platform, swaying it alarmingly. I grabbed the support pole and clung to it like a lifeline, breathing hard and clenching my eyes shut. "Here," I heard a voice say, as though from far away. "I've got to rope you in."

I opened my eyes. A woman was clipping my harness to a rope with the sort of quick efficiency that told me she'd seen it all: confident kids, scared kids, and kids who would rather die a slow death by torture than take the leap. I didn't want to open my mouth - I was afraid I'd throw up all over her - but I had to explain. I had to get off this thing before they made me jump. "I don't want to do it," I said, careful to stare at the rope she was clipping to my harness so I wouldn't see the ground, so far below. "It's all right," she said calmly, with a final clank of clip against harness.

The zipline stretched from the platform over a wide expanse of boulders. "One!" she called.

I felt really sick now, staring down at those sharp rocks. "Two!"

Surely a cord this thin couldn't support me. Surely I'd slip out of the harness. "Three!" she shouted.

Everyone else jumped. I could see them riding along, every second getting farther away and making me feel more and more like an idiot. I told myself to jump now before too many people noticed, but my legs wouldn't obey.

Finally, I took a deep breath and leapt into the air. It goes against all instincts to jump from a 50-foot platform, whether you're attached to a cord or not. My brain - and, subsequently, my heart, which did an abrupt cartwheel before going numb - screamed this to me in the time it took for my body to surrender to gravity and the life-saving, but still perilously thin, cord.

Finally I stopped. My whole body was shaking, and my heart was pounding faster than ever, but I had a new feeling too. Exhilaration.

I raced up the hill to do it again.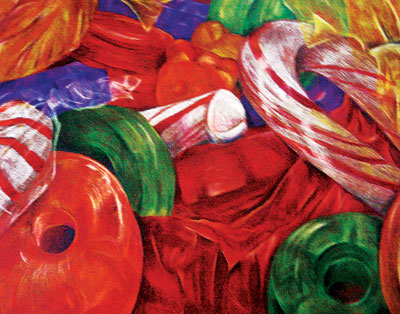 © Amy Z., Edmond, OK