New Name in Fashion
December 11, 2008
Look out world, there is a new name in fashion and she is just about to dominate the fashion world. I have always dreamed of what I wanted to be when I grew up. Most little girls when they are five or six want to be princesses and live in fancy palaces and marry there prince charming like a fairy tail. I was definitely one of those girls but as the years have progressed; I have developed a great passion for fashion. Therefore, as of now, when I grow up, I want to be the next Stacy London, and have my own fashion TV show like What Not to Wear because it will be able to show people their potential, it will be rewarding to me, and it will be enjoyable.

First off, so many people in our society deserve to look fabulous but they do not acquire the time or they just do not know how to dress their body. When I become aware of people walking down the streets looking frumpy, it just puts out a ghastly impression for them. I want to help these people. On What Not to Wear, they help people feel better about themselves and that just touches me, and I know that that is what God wants me to do. When I picture someone who needs help in the fashion department, its usually someone whose hardworking, that finds it hard to take the time out to dress nice, but the thing is, is that it takes just as long to fling on some overalls and a sweatshirt as it does to throw on a pencil skirt and a blouse. To some up, there is not a solitary person in this world that deserves to look bad.

On the other hand, it would be enjoyable for me. It would be cool because I would be able to attend Fashion week, I would go shopping virtually everyday, and I would be able to preach my fashion dexterities to people and watch them mature. Can you visualize a job where you are able to stroll the streets of the fashion capitals of the world and buy amazing clothes? Well it is certainly possible if you want it. When I go shopping with my younger cousin, she looks up to me for fashion guidance and I have a high regard for that. In conclusion, giving people advice all day, and shopping is definitely a piece of cake and a total blast.

As I said before, it makes me feel great when I make someone else feel stunningly beautiful. Just knowing that you make someone feel confident is exceptionally rewarding and well worth my time and effort. When you make someone turn heads when they walk into a room is a great accomplishment and that undertaking makes the person develop a load of self-confidence. On the show, London once made contestants find a better job and increase a better relationship with his or her spouse. I am categorically not trying to portray that all people take into account is what you look like, but in first impressions, the onlooker does not know you. Thus, by looking put together, you broadcast a high-quality image for yourself and others. Ultimately, I think this job would just make me beam with joy like a child on Christmas day and have a splendid time because I knew that I was helping people and that makes me feel great.

Conclusively, I think this is a great profession for someone that worships fashion, business and chatting and conversing with others. This job would prove to people that they deserve to look as fierce as the models on the runway. It would also be extremely gratifying to others and me. Lastly, this job would be a ball. To conclude, writing this paper has unquestionably convinced me even more of the reality that this is what I would like to do as an occupation. Maybe, Someday when you are watching a high-tech hologram television show twenty years from now, you will see me giving my advice all around the world.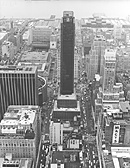 © Palema T., Norwalk, CT