The Little Me
December 11, 2008
Sometimes I wonder what it would be like to go back in time. Not to change decisions or events, though there are a few of those I'd like to reinfluence, but to see myself then. Or now. Or whichever.
Here me out.
When I look at pictures of myself when I was in sixth grade, fourth, third, first, I can actually see what I looked like. (It seems that no one knows what they look like until it's a few years later and they have a photo album.) I have to admit, I was rather adorable, especially when I was in fifth and sixth grade.
What I'm really interested in though, is how my little Mes of the past would see me now.
In the four years I spent in Magnolia Crest(an apartment complex in Dallas, Georgia), I developed an averse attitude towards teenagers. Truly, I despised them; most thanks are due to my older sister, who was the embodiment of teenage trouble, a plague upon our house. That little Me was rather boisterous and lively, happy in her perpetual summer of being royalty, being adored by adults and feared for her insanity and bare feet. I am very curious about her thoughts; what she in particular would discover in her future self. A role model, someone she DOES want to become? Or a criminally insane monster with polite tendencies and anger issues?
...I bet she'd be either disappointed or very enthusiastic. She was a very unpredictable child.
She's the one person I wish I could be.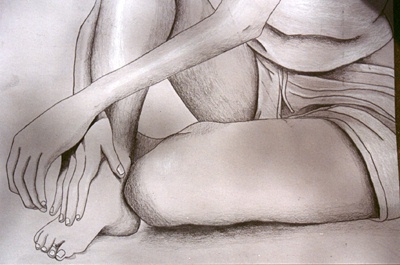 © Rebecca W., Kannapolis, MD