Love and the Wishbone
MAG
December 8, 2008
My parents had always treated the wishbone as the symbol of their relationship. The Thanksgiving before I was born, my mother and father saved the wishbone from their turkey. They made wishes on it, kept it for years, and put it on display for all to see. In those 17 years, they never broke it. It sat brown and brittle on the mantle like a stone in a river that not only withstood every wave but became more deeply implanted with each crash.

That was until my father decided to leave for the fifth time. At some point between discarding his Guitar magazines and collection of ceramic owls, my mother had put the wishbone in one of the cardboard boxes on the kitchen floor. Its removal from the mantle made the living room seem uneven. It was as if it had held our house together and without it the furniture sat at new, unattractive angles.

Unlike my father's fourth departure, when his missing guitar made the corner of the living room seem like a black hole, the missing wishbone left the whole room in a state of irreparable disarray. It had been easy to fill the corner where the guitar had sat, but rearranging the mantle where the wishbone had been seemed impossible. Its spot, in a way that even best-selling books on feng shui could not explain, refused any other occupant. That mantle loved the wishbone and the wishbone loved it in return.

After a quick survey of the boxes, I began breakfast. Five minutes later, my father entered the house without a word. His calloused hands went through box after box inspecting my mother's work. He hesitated when he opened the one housing the wishbone, his face contorted into a Mister Softee vanilla-chocolate swirl of confusion and resentment. My father's feelings usually stood on their own on his face, but today they had converged into an overall awkward effect.

With one calm swipe of the hand, he removed the wishbone and placed it on the kitchen table in silence. As if he had just picked a piece of lint off his shirt or selected paper or plastic at the supermarket – rather than rejected the symbol of his shaky, sometimes wonderful, relationship – he went about his business.

In expectation of the worst, I decided against asking my mother to "send the milk on over" and shoved my mouth full of oatmeal. I didn't want to be involved in what was coming. I had predicted my mother's reaction perfectly. She picked the bone up and returned it to the box, trying to imitate the same apathetic demeanor. My father shook his head as if she were a dog that had dragged a bird in as a gift. His hand swooped down and snatched the wishbone. Their eyes met as he did, one daring the other to move, yet my father decided to continue their rather unpleasant spinoff on hot potato. The wishbone found its way back to the counter, and my father took some of the boxes to his car.

By then, I had stuffed my mouth so full of Quaker Oats that my cheeks protruded like a squirrel's. I was about to swallow when I heard my mother shout, "I don't want it!" That was my cue to keep eating. The feud was not done and I was certainly not going to be the one to end it.

My mother started over to me, wishbone in hand, and placed it next to my bowl. I had been tag-teamed into the game. "You take it," she whispered, her voice barely audible. "I don't want it anymore." With that, she left the kitchen in tears. After staring at it for a good minute and a half, I returned the wishbone to the mantle. Three hours later, I found that my mother had tucked it under my bed. She couldn't even bear to look at it.

I saw love die that day. Perhaps it had always been dead and I had ignored the carcass until the smell became unbearable. I was still reeling from the idea that neither could even look at the wishbone, which had once been held comparable to the Holy Grail. That's when I stopped believing in love altogether.

Months later, when my father moved in with his girlfriend, he gave me some items from his apartment. Among them were the fabric butterflies he had displayed in the apartment, which I had assumed his girlfriend had purchased. When I opened the box of butterflies, I found a note in my father's chicken scratch that spelled out in three sentences what words cannot describe: "Please take care of these. They were a gift to me from your mother. They meant a lot to me."

I had not cried when my parents told me their relationship wasn't going to work. I wasn't remotely surprised. My father, with the resilience of a pansy in a hurricane, always pulled the "we're not married anyway" card whenever he was displeased by the situation. Thus, when my mother's second bout of cancer left her miserable and unattractive, he deemed the situation unsuitable. I was too angry, too disgusted, to cry.

Yet seeing that note brought tears that seemed to have been there all along. I looked up at the wishbone, now living on my bedside table, and stared at what I had not been able to understand, and what I still cannot even begin to grasp.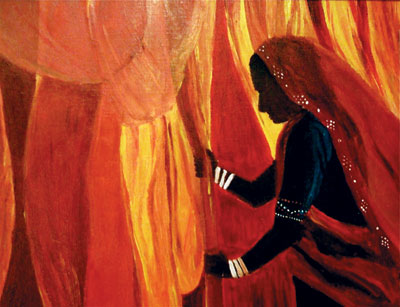 © Nina G., Nashville, TN