A trip to the park
November 30, 2008
When I look back into my memories one event lingers in the background, it was a horrible experience, but because it was so awkward and embarrassing. As a child, I spent much time with my brothers and aunts in California; at the age of five during the summer, my brothers and I were sent off to California to visit our aunts. During one of my many boring summer days, my aunt Yalinda decided to take my brother Whaley and me to a park in Long Beach. This was actually my first time going to a park because there are not many parks in my hometown of Columbus, Mississippi.

When we arrived at the park, my eyes lit up like candles. I remember running from the swing, to the jungle gym, then to the seahorse. The first item I played with was the swing, and then I ran to the sandbox, but no item occupied my interest as well as the monkey bars. The first time I attempted the money bars, I got stuck at the first bar, so my aunt had to rescue me and put me back on the ground; I tried again, sadly another failure. I do not know what it was, but my brain would not allow me to release the first bar and move to the next one. I would start and then I would become and my aunt would come and help me down. No matter how many times I tried, I failed. Kids would try to show me how to swing from one bar to the next, but I would continue to fail. I looked at the other kids swinging from bar to bar and thought, what is wrong with me? Why can't I do this?
Feeling extremely awkward, I then committed myself to conquering the monkey bars, but I still could not do it. My aunt eventually became agitated and told me not to attempt it again; but I was stubborn and committed to succeed. The next time I became stuck my aunt became upset and gave me an old-fashioned "whooping" in the middle of the park with the parents of every kid watching. The spanking was bad enough but to add to the embarrassment of being whipped in front of all the parents and children she whipped me with my own belt. All those events made that trip to the park one of the most embarrassing events in my life.

After that day, I never attempted the monkey bars again, until the summer of my 10th grade year at Camp Legume, South Carolina at the Marine's confidence course. On that day at the age of 15, I completed 30 yards of monkey bars in less than two minutes. I had finally conquered the monkey bars.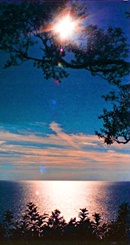 © Crystal B., Gresham, WI