You Are More Loved Than You Ever Dared Hoped
November 26, 2008
A lodge hidden in the woods (right off of Stevens pass) an unreasonably steep hill (especially if you're like Ty and you were on crutches.) It had a stunning view. There were huge towering tall trees that surrounded the lodge. Right as you stepped out of the bus you knew that you were in the woods, just by the smell of it. I loved it, it was so natural. Lodge where so many memories were made and so many new ones were going to be made by us that weekend. You could tell, you could feel the anticipation flowing out of all of us freshman. We were going to have an awesome time. This was going to be our time, and no one was going to stand in our way.

When they announced that we were going on a freshman retreat I was stoked and ecstatic. But mainly for the fact that I didn't have to stay home that weekend. I totally thought it was something that it wasn't. I thought that I t would be weird because I was only really close to some of them. I thought that it was going to be hard to open up to people I guess I really didn't know. I knew Rob (Youth Pastor) would most likely get mad at me and Olivia for being "exclusive".

But later on I found out that, I didn't have the problem of being exclusive with Olivia. I found out that I actually could open up.

There was 15 of us freshman all coming from my youth group on a freshman retreat. Me, Olivia, Courtney, Katelyn, Brittni, Melissa, Curran, Katie, Addison, Aaron, Ty, Max, Tyas (Chuck), Tyler, and Derek (Tina). A whole lot of immature-ness. But a whole lot of memories.
The time that was spent there was just to bond, and learn more about Christ. But our group has the shortest attention span that it was more bonding then anything. We can't really sit still. The guys freaked out on playing halo against each other. One of the leaders had brought a projector and screen so it could be bigger. And they also had a T.V downstairs so eight guys could be playing at once. Also they were seeing how much Mt. Dew they all could drink in one weekend. And it was a lot. More than anyone expected.

Us girls Rocked out on Rock Band, and conquered the deep dark forest of obis. We also had fun watching the boys play halo, and having the girl battle on halo.
"Dude, you totally know it's a girl playing halo, when they are shooting at the sky!" Addison laughs.

"Hey now I don't waste all my time trying to defeat halo. And besides I haven't shot at the air once. I know what I'm doing." I replied

"Umm Kameryn your bottom right. Not left." He commented

"Oh no wonder. I thought my controller was broken" I laughed.

"Dude you should totally let me play they would never notice" he said. So I let him play and he got 42 of the 50 kills for my team.

"Kameryn you're a halo master 42 kills! Wow" yells Zack from upstairs.

"I know, Addison taught me well! I guess I just learn from the best." I yelled back.

To me when I figured out that we had become so close was on the bus ride home. Everyone was playing catch phrase, and I just kind of looked around and realized how much fun we were having, and how close we had gotten that weekend. To me it was pretty cool to look around and see that we all had come so far.

"It's a cup-cake!" Addison yelled, taking me back to the awesome reality of where I was.

"Addison you're not allowed to play. You got out a long time ago." Everyone yelled at him.

"Besides he hasn't even given the clue yet on what it might be." I said.

"I know, but I really want it to be a cup-cake! I don't know why, that would just be ah-mazing!" He tells me making an A with his arms. Something I taught him.

"No it totally needs to be an ELEPHANT!" Ty exclaims.

"Ty, Ty. Dude guess, guess, you totally know this one" Max yells at Ty with catch phrase in his hands.

"No way!... ELEPHANT!?"

"YESSS!" Max answers with excitement.

"Sweet" Ty agrees.

"They got an elephant, why can't I get a cup-cake" Addison whines.

"Luck, Addison , pure luck." I tell him.

I guess it was a realization for all of us that it really didn't matter what school we came from, or who we were, we can still all be close.

It was like a second family. I could open up to them I could explain things to them and trust them. I grew up with most of them my whole life, we went to Awana together, we did so many things together, but it was like I didn't know who they were until that weekend. I found out who some of my close friends were and, I know now that I am going to keep them close. And we can still care and have stellar amounts of good times.

This weekend was a time to put everything aside. To forget the past, live in the present, and look forward to the future. We were here to try something new. To make new friends, and have some crazy adventures. Which we did.

We were asked the question at the end,

"Was there someone here you really didn't know at the beginning, that you know now because of this trip?"

I did. For me my initial thought was everyone, I had come to know everyone and feel so much compassion to all of them. But once I got to thinking about it I realized there was one person who I became close with. His name is Addison he now is someone who is one of my closest guy friends. He rocks, and we have so many inside jokes. That person was Addison. I knew who he was but I never paid attention to him, I never really got to know him. But after that trip I know and we are really close. Now I can't really see Christ Group without him. To me he is truly Ah-mazing (inside joke… see I told you we had lots) we became really close as friends. I really got to know him and now I am so happy that he is my buddy.

To me that weekend was a time to bond with the people that we would probably grow up with from now on. And that is exactly what happened. No body was left out, and I found some great friends, that I now can never live without. We cared about each other, and were close. Some closer than others. I now am so happy about that weekend and it's so epic that it happened.

I love my freshman school friends. But I think I love my youth group friends more. We were more like a family. We had trust, like a family.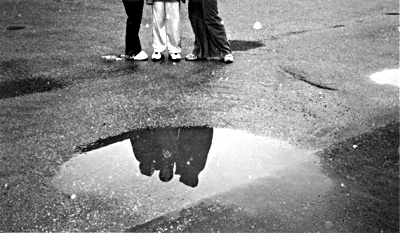 © Gary C., Pequannock, NJ