Why I Love Winter
MAG
Winter is my favorite season. It is the prettiest, with bright rays of sunlight glinting off the fresh snow and ice sculptures in the trees and shadows playing tricks with your eyes on the ground. The slow-falling flakes that never seem to stop spread a feeling of peace and relaxation. Looking at them fall is always fun, as you watch them flit back and forth in the light breeze, trying to find two identical flakes. If you could just go outside and lie down in the fresh snow, all your worries would disappear. The snow muffles and quiets everything, so if you close your eyes, you could easily fall asleep. It's bliss.

Winter is snowball season. My father and I have snowball fights all the time. We used to make huge forts, elaborate designs of snow and ice sculpted by frozen hands, to protect ourselves from the hard-packed snowballs. When I was little, I needed a fort because I couldn't plow through snow to run away or dodge shots as I can today.

Even with all the defenses I created, my father ­always leveled them easily with a well-placed mortar snowball. For those who don't know, a mortar snowball is kind of like a mortar shell. It's a real big ­snowball – we're talking like bottom-of-a-snowman size – you have to throw at an upward angle to hit your enemy. If you make them right, they explode in all directions when they hit the ground, making a nice hole in whatever you hit, or knocking over whomever you hit. Once, my dad even leveled an igloo with one.

After all my defenses were destroyed, I nearly ­always had to resort to hiding ­behind the piles of snow that remained and throwing whatever I could back at my father. Eventually, his arm would grow tired, or one of us would get cold, and we'd head ­inside for hot cocoa with lots of marshmallows.

As I grew older, the basic idea of a snowball stayed the same but the game changed. My father and I no longer used forts. Instead, we began to move more. One of us would throw a shot, sprint for cover behind the nearest obstacle, and make another snowball. Throw, run, dive, make snowball, repeat. Now, if we get too close to each other, one of us will tackle the other, shove his face into the snow a few times, then run away and throw a snowball at him as he gets up. We also use many types of snowballs today, and they are a great deal more painful. We have:

• The All-Purpose Medium Strength Snowball – used for just about anything and everything.

• The Extra-Packed Small-Caliber Extra Strength Sniper Snowball – designed for pain and long throws.

• The Heavy-Gauge Mortar Snowball – for knocking things (or people) down or destroying fortresses.

• The Short-Range Last-Resort Shotgun Snowball – an explosion of snow designed to blind your enemy and allow you to escape.

• And, last but definitely not least, the Rocket Snowball – a very hard, heavy, fast snowball slightly bigger than your palm that could pass for ice. Delivers a one-hit K.O. complete with a free trip to the E.R.

The game has become even more fun with these many different snowballs, but proportionally more painful as well. My father and I have bruises from playing nowadays, but we can't wait for winter to ­arrive once again. Dad's acting older now, and pretty soon we'll have to stop playing rough, but his aim is getting better, which makes up for what he's lost.

Probably what I like most about winter is seeing my whole family. They live all over the place – some in Germany, Georgia, Florida, New York City, and countless other places. We rarely all get together, but during Christmas, we reunite and have a good time. Everyone in my family is a great cook too, so when we gather, excellent food abounds.

On Christmas Eve, we sit around the fireplace, play games, listen to music, and have fun as a family. To me, that is what makes winter my favorite season: togetherness. Sheltered from the freezing blizzard outside, we swap jokes and stories by firelight, waiting for the moon to appear and create a light show across the snow and sky, a winter dream. And it's this winter dream that I've come to love fiercely. Winter is, and always will be, my favorite season.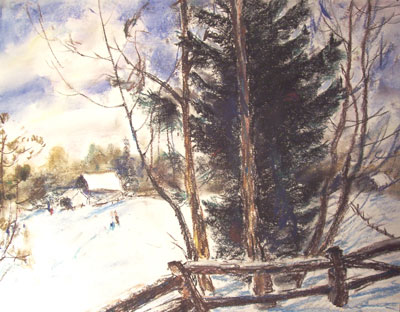 © Xiao H., Naperville, IL