The Perfect Tree
MAG
The car crunched to a halt, the engine's roar puttering to silence. A crisp mountain breeze swirled around the car, and the sounds of bird chirps echoed in the frigid air. The car seemed perfectly still … but only for a moment.

Then a door swung open and out I jumped. My short, fifth-grade legs instantly submerged to my knees in the glittering snow. With a determined face, I strode forward only to discover the snow made my meaningful steps less meaningful. I would have to call for reinforcements.

"Dad!" I yelled. "We need to get going … and," I added reluctantly, "bring the sleds!"

As if by magic, my family started popping out of the car. Dad unloaded the ­supplies while Mom bundled up Anna, my six-year-old sister. We were here for one reason and one reason only: to find the ­perfect tree.

In Montana, after Halloween, one could buy a tree permit. This paper granted the buyer permission to enter the mighty Bridger Mountains and cut down whatever tree one's heart desired and could realistically haul away. No Walmart parking-lot tree for us this year; we were seizing a once-in-a-lifetime opportunity to shop in the great outdoors.

So here we were, deep in the woods looking for the tree. We trudged through the winter wonderland. Dazzling icicles hung suspended in midair, beautiful and deadly at the same time. All the gorgeous trees here were, unfortunately, massive, but this did not diminish our enthusiasm. My dad led us to a small trail. Its clean snow indicated a people-free zone, perfect for tree searching.

Until now, I had managed to walk by half hopping, half dragging my feet in the deep snow, but now it reached my thighs. I reluctantly gave up my fifth-grade pride and employed the sled I had lugged from the car. I sat on my knees and paddled through the sparkling snow with my cold, gloved hands. What I thought to be a setback soon became an enjoyable pastime with my sister Katie. We raced each other through the mystical woods. Anna looked on, wiggling, eager to join in the fun. But Mom held her in the relentless grasp all mothers have.

Even with our paddling, we still traveled slowly, sinking in the snow whenever we put our weight on the sleds. I struggled to catch Katie, who managed to stay ahead. I wasn't about to let her beat me. I was concentrating on her shining copper hair when, without warning, it disappeared from sight with a faraway shriek. I pushed harder to see what had happened, then felt my heart drop as my sled plummeted ­almost straight down, a scream tearing from my throat.

Jack Frost had transformed a once-small hill into a stomach-wrenching drop. Screaming and giggling, we zoomed left and right, snapping the tops off unsuspecting baby trees hibernating under diamond blankets. Finally our exciting ride skidded to a halt. Laughing, we glanced back just in time to see a tiny escaped convict trying to follow us.

"NO, Anna!" we yelled, but it was too late. The deep snow tripped her stocky little legs, sending her rolling down the hill. We started running (or at least trying to run) as her pink marshmallow jacket abruptly disappeared into the white landscape. We paused, looking at the place she had been seconds before.

"Anna?" No answer. "ANNA!"

A tiny, muffled response reached our ears. We peered down a hole and there on a frozen patch of dirt sat our little sister. She looked up at us, smiling as she scanned the inside of her burrow, clearly proud of what she had found. By now my parents had arrived and started to laugh, after discovering Anna was unharmed.

My dad effortlessly lifted her out and plopped her on his shoulders. We looked around and discovered a glistening, wooded valley. Everywhere trees stood tall. They seemed to whisper a greeting, their branches bending in welcome.

Our family began to discuss which tree to pick. My sisters and I were drawn to one set apart from the others: it just seemed to belong. Not as perfect as the rest, but then again neither was our family. We looked at the others but came back to this one. It was clear which tree we would dress in ornaments and lights this year. Smiling, my dad prepared to cut it down.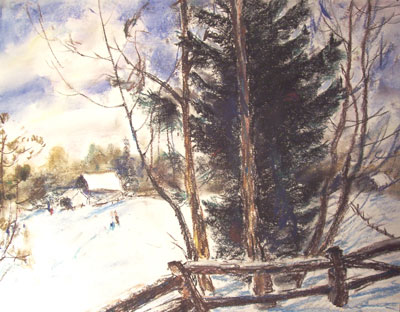 © Xiao H., Naperville, IL