The Babysitter
August 26, 2008
My teeth were chattering. It was a cold winter morning. It took me a few minutes to realize that it was six o'clock in the morning, and a four-year-old had just awaked me. It must have been so early in the morning that I'd forgotten that I was babysitting today. I got up and stumbled into the living room, and Nathan (the little boy that I was babysitting) turns on spongebob. As I sit down I am thankful that his two-year- old brother hadn't woken yet.

It was a short two hours later that Matthew starts bawling. I follow his cry into his room and take him out of his crib. "Now for some breakfast." I thought to myself. I then scrambled the kids into the kitchen and asked them what they wanted to eat. One said, "Pop tart!" and the other said, "Coco Puffs!" "How am I ever going to get through today!?" I quietly cried to myself.

I am not sure how I got through the whole day, but somehow I made it past all of the fights and the anti-nap protests! It was worth it though because now I have a brand new pair of shoes!!!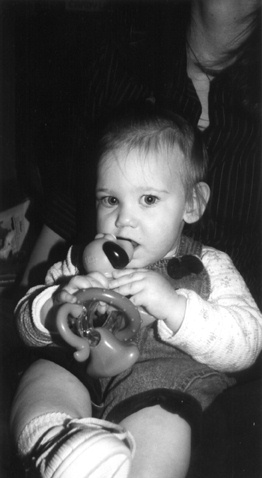 © Katherine B., Hingham, MA