Curves
November 17, 2008
I'M BURSTING WITH EXTREME UNCONTROLLABLE EXCITEMENT. THE KIND THAT ONLY IS FELT AFTER A GOOD TWO PERIODS OF HOLDING IT IN AFTER SOME KIND OF MIRACULOUS LIFE CHANGING EVENT HAS OCCURRED. What was this event? Well, today I swallowed a piece of mint Orbit gum. But before that… I found out I would be out of my back brace, my treatment for my increasing somewhat mild scoliosis curve, that I had been wearing a grand total of one and a half years a.k.a. my whole high school experience. And I wouldn't be out of it officially for forever but for six hours a day sounded pretty good to me. Oh, I'd be able to wear clothes! What a luxury! Not those big shirts barley able to hide the buckles of my plastic back and stomach but so good at concealing the whole middle part of me. No, I'd be able to wear tank tops and white shirts and shirts of a lighter fabric and shirts with a V-neck and shirts that fall off the shoulder and my shirts wouldn't have holes in them anymore or be stretched weird and they wouldn't be absolutely depressingly enormous. And I could wear skirts! And sweatpants! I guess I could have worn all of these things before but not the way other people wore them. And you can't control how you feel inside no matter how hard you try and no matter how good your friends are about not making you feel bad and no matter how positive a person you are.

There was a day six months ago (almost- in December it will be) when I thought about how I would get to do all of these things. You know, its not just clothes. I can officially slump in a chair now. And when I'm standing next to other people, I'll be able to turn sort of sideways to face them comfortably even if I'm, like let's say, leaning on a wall which was pretty impossible in the brace. And the list goes on of just those little insignificant things you hardly consider. But anyway these were the beautiful possibilities running through my head on the drive to my back doctor (orthopedist? Or is that the braces one? I've got crooked teeth issues too. I'm a little off center overall) almost sixth months ago. And then we got there, he checked out my x-ray, beat around the bush a little…. Said something about six more months- and that's all I heard. I stopped listening after that. Yeah, I assume he said something about the risks of ending the bracing period or shortening it, justifying it and what not. I don't really know but I assume. I don't want to remember that feeling 'cause it wasn't the extreme uncontrollable excitement feeling it was more like the disappointed this-is-never-gunna-end and what-did-I-ever-do-to-not-get-this-just-once-when-I-really-really-wanted-it feeling. It was just an utter bad feeling deep in the pit of your stomach that dries out your mouth and drains out the color in your smile.

But those feelings are gone now. I'm officially out and back and it feels like the first day of school because to me it kind of is. I know that was me who spent the first year and a half at this High School but it feels like a different me. And yeah, you know what? It actually was me. And I did it, too. And that's another good feeling too- knowing I did it and I'm done. And I'm glad I didn't have some life-terminating disease 'cause it could have been a lot worse.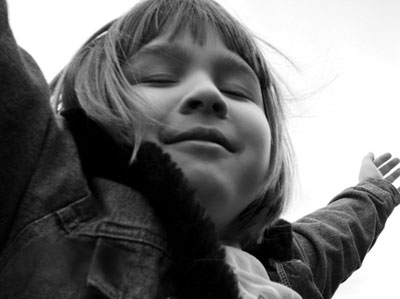 © Morgan C., Fridley, MN