My Father
October 28, 2008
When I was a young child, my father was tall, with big shoulders and a resonant voice – I loved his dignified appearance and his warm advice. He hugged me every night before I went to bed.

But seven years ago, my father was defrauded by his close friend. He fell for his friend's sweet talk and lent all his savings. His friend ran away, and my father was left in financial and emotional tatters. My father has changed since then. He works all the time, and barely comes home.

I woke early once Saturday and saw him sitting alone in the kitchen. I couldn't find his dignified appearance anymore. His black hair had turned white, and he looked gaunt. He smiled at me, hugged me. I just stood there and did not know what to say.

I know why my father works so hard. It isn't simply for his own benefit or fame. He works to provide for his family. I appreciate everything he's done for me, but don't always act as though I appreciate his hard work. For a long time, I asked for money every time I went out with my friends. While he ate four-dollar lunches, I ate expensive sushi.

One day, I found his wallet in the living room, and I opened it without thinking. He had only ten dollars in his wallet; he didn't have a single credit card. What he did have, however, was a worn-out family photograph. I burst into tears. I took all the money from my wallet and put it into his wallet. That was the only thing I could do.

That day, I set new goal for my life. I would no longer take things for granted. I would study seriously. I would not let my father's efforts be wasted. On my desk at Culver, I keep the photograph – a copy of the photograph I found in my father's wallet. It reminds me of my promise.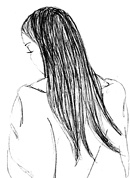 © Miranda B., Neosho, MO