The Woman in Red
September 28, 2008
I never knew who or what the woman in red was, and I'll probably never will. She came to me as I was lying on the bathroom floor crying, my nose bleeding, staining the white tile floor…
People think they know how to make foster homes a safer place, but really, that was all just a lie. I wasn't being feed right, I only had one small meal a day. I wasn't getting the proper care to help me with my past; I was instead being used as a tool to fulfill the sick pleasures of Rose and Dan.
To fix my bed-wetting problem they would wrap me in the sheet I wet myself in, put the Pull-up on my head, and leave me all day with nothing to eat or drink, and I would have to use the bathroom were I was. In the dark cold basement.
In addition, they would stuff my head into the toilet, and half drowned me, I would scream under the waste, but that never helped my cause, it would just create bubbles at the top. I tried to breath, but instead I choked on the chunks of waste.

So there, I was lying there with the nosebleed, and tears stinging my eyes, the taste of urine in my mouth that made me puke on the floor. Rose stepped in. "Justice, I love you. You know that, right? I mean your real mom gave you to us, so please understand this is all to help you. Clean yourself up." And left.

"What did I do?" I would cough up in sputters of hiccups and tears. "Why?" I lifted myself up onto my knees and flushed the toilet. I put both of my hands on the seat and watched the twister of brown disappear into the hole at the bottom, and be replaced with clear water. The ripples wouldn't let me see my face, and I was afraid to see my eyes red and swollen and my nose bashed. "Help me." I asked the toilet, trying to imagine God there. "Please…."
The toilet water settled and there I was dark skin, brown eyes, and black hair. And there she was. A lady standing over me with her hand on my shoulder looking into my eyes of my reflection smiling. She had black hair, brown eyes, and dark skin like me. I jerked back hitting my head on the wall behind me, I started to cry. Did I really see a lady in the toilet? I started to shake.

I told Rose about this on the way to therapy, and she told me it was my angel watching over me. I smiled at the thought of that, a angel with me every step of the way.
I walked into the building and looked around at all of the sleek items that made me so comfortable. Rose got on one knee, looked me in the eye and spoke. "Justice, don't tell this man anything about what goes on in our house ok? I don't want to hurt you again." I nodded and walked into the room.

"Justice?" The small bald man asked, and I nodded. "So how's your new home?" I froze. I told myself not to say anything. "Justice?" I looked at him; I looked into his glasses and saw my reflection. I saw her again to, her hand still on my shoulder. She smiled at me, the most beautiful smile I ever saw, and I understood. 'Justice? How's home?" I looked at my hands, and cried as I tried to tell him the story.

"Do you really want to know?" I asked.

And here I am, 9 years later, adopted and still a little scared of my past. I still see the Lady in red, though not as frequent. But I know she helped me and still does. She also gave me the safe home I live in. The lady in red was my angel, and she's always here by me. If I wake up from a nightmare of Rose and Dan's house, she would be there hand still on my shoulder.

Her hand will always be on my shoulder.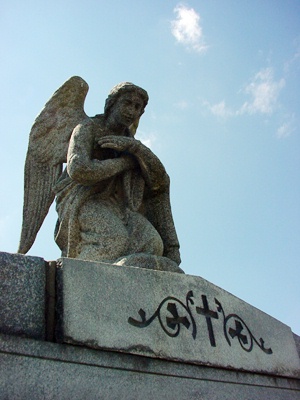 © Greg K., New Lenox, IL