Breaking Up
September 25, 2008
"What?" he said, staring at me with the bluest eyes. They reminded me of being lost, stranded on a deserted island, suffocating in a wonderland of endless ocean.

I thought about what I was going to say, how I was going to break it to him. Realizing after a few moments of silence that he was staring at me, I turned my gaze up to him and breathed in deep. Still, with no words to frame the emotion balled up and throbbing in my throat, I could sense his wondering. He waited for my response to his one-word question, as if I held the truth in the air and potential energy was building up inside it. "I think we should just be friends," I managed.

His blue eyes frowned at me, then. Face reddened. Unsure of how to reply, he reassured himself by cautiously peering over each of his shoulders, feeling somebody observing the situation. "Okay," he whispered. "…yeah."

Two steps, three, I watched him leave. He glided through the crowd of restless students like a fish swimming against the current. I struggled to call after him. The words came out as a tiny squeak among the roar of conversations: "Wait."

Miraculously, he turned. Had he expected me to retort? He raised an accusing eyebrow, stepped closer. One more step, two. He stood ten feet away, feet planted sturdily on the tiled floor. He was the dam that held the lake, angering the fish who needed to see the other side. Stepped aside, students poured past—dam broken.

He stood, suddenly, only two feet away from me, anticipating that I would only wave him away. I didn't. I situated myself there, like a wall, not letting him leave again. I held my hand out to him. "Friends," I said, eyes focused not on him—but my awkwardly-positioned arm, floating lonely in the cold hallway. Why is the hall so cold so suddenly?

He grasped it; firmly… shook, smiled, and chuckled. "'Course," he smiled. "…friends forever." Then he wandered off once again. The late bell rang once, two times, echoing in the hallway that was so full of life moments before. He left me stranded on—what seemed like—a deserted island, suffocating in a wonderland of endless ocean.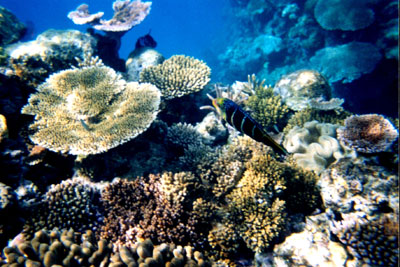 © Brittany B., Louisville, KY