Footprints In My Heart
September 22, 2008
Before I began I would like to announce that the real names have been changed.
Eleanor Roosevelt once said, "Many people will walk in and out of your life. But only true friends will leave footprints in your heart."
Reading this quote has made me realize how true this statement is. I had many people who have walked into my life, just to walk right back out. These are the people who wont be in my memories in the future. But only my true, friends, the ones who stick by myside will leave me great and wonderful memories, so one day I can tell my children.
Right now in my life I have two great heros and three wonderful friends. These five magnificent people will leave those footprints in my heart.
My two heros are and they always be my brave mother and my strong grandmother. My mother had to deal with two little babies when she moved to Washington. She left my father and found a better life, here in the Evergreen State. She worked long and hard to take care of us. Never letting us seee that she was scared and worried. And then my grandmother was there by her daughters side. She too moved to Washington seeking a better life. She took my mother, my brother, and I in. Let us live with her. And even when a problem came along she delt with it. She gave my mother hope for the future. And even though we not longer live with her she's still by my mothers side. But this time she's also giving me hope for the future. She encourages me to do things that I love. She corrects me when I'm wrong, so I can learn from my mistakes. These two women are the best mothers in the world. No one would know how wonderful they are. I'm not only lucky to have them as my mother and grandmother, but I'm also luckly to have them as my guardian angels, my own super heros.
Then there are my three best friends. The first one, Foxy, was the first friend I ever had. My childhood friend. She was also there when I needed her. What ever mood I was in she was next to me. She always listened to my problems and she tried her hardest to figure them out. She would pry for me when I needed it. But then the day came when we had to move away from each other. And even though we are far apart we still keep in touch. She still listens to my problems. She still prys for me. She will always be in my heart. She my best friend for life.
Then my other two best friends are my crazy twin frieds who I met in sixth grade but didn't become friends with them until ninth. When I moved to this town I thought I would never let myself be open again. But then they came along. They walked in to my life and haven't walked out. Luna and Star are not only my best friends they are my sisters. They have built a special place in my heart. The past year have been hard. I learned that my grandmother, my hero, might not be around much longer. And I cried. And my best friends were by my side. Trying their best to help me out. These two girls are the greatest friends a girl could possibaly have.
So Eleanor Roosevelt was right. Many people will walk in and out of your life. These are the people you will forget and ask who they are when their names are brought up. But only true friends will leave those footprints, those beautiful and wonderful memories in your heart. These people are the ones you should never let go. These are the people who will bring hope and miracles into your life. The ones were you can smile when you hear their names. Don't let them go. Keep them close to your heart.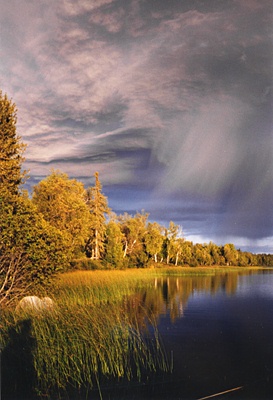 © Dustin B., Nikiski, AK